[Estimated read time: 6 minutes]
Selling your home can be stressful no matter what time of year it is, but if you are thinking about selling, the springtime might be a perfect time! The winter months are almost behind us and the warmer temperatures are hopefully here to stay! Making it a great time to get out and get your home ready.
---
Preparing Your Home for the Spring Market
---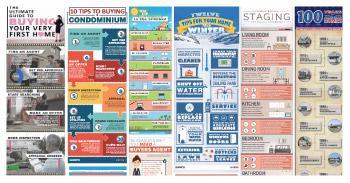 Do You Love Real Estate Infographics?
Feel free to check out some of our other top trending infographics and let us know what you think!
---
10 Tips to Getting Your Home Ready to Sell
Typically most real estate agents will experience a wave of new homes for sale during the Spring months. As a homeowner thinking about selling, you want to fully prepare your house in hopes of leaving a lasting impression and getting your home sold. Let's take a look at ten tips that can help you succeed this spring.
1. Interior Paint
When a Buyer walks into your home, you want the least amount of distraction caused by any personal items or the result of personal taste such as paint colors. A loud or bright colored room can turn off a Buyer. Even though there is nothing physically wrong with the room. A good way to keep your house inviting to a Buyer is by choosing a soft, earth tone paint color that is less distracting.
Also, while you have the paint brushes and drop cloths out. Go ahead and touch up the trim and baseboards throughout the house. Over the year's baseboards tend to get scuffed up from daily traffic and can be easily cleaned and painted.
2. Declutter
As mentioned above, you want to minimize any possible distractions when a welcoming a Buyer enters your home. If you have plans on moving, why not go ahead and get started packing early? Go through the house and pack away out-of-season clothes, personal items such as family portraits, trophies and more. This will encourage a Buyer to walk through your home and envision their own personal items.
Also, consider removing and packing away certain pieces of furniture. If you find that a room in your house is too cluttered. You will want to consider moving furniture around or storing it elsewhere to maximize all available floor space. This can help make a room feel larger. Use only the necessary furniture that compliments the living room and bedrooms.
3. Kitchen
Is your kitchen outdated or need some attention? Shedding new light on your kitchen can drastically help improve the sale of your home this spring. There are numerous, and cost-effective ways to help give your kitchen a whole new look.
Do you have outdated cabinets? Consider giving them a new look with a brighter color. White cabinets with fresh new hardware is a budget friendly overhaul but can be a time-consuming task. However, it can give your kitchen a whole new look. Not sure where to start? There are many tutorials online on your how you can reface your kitchen cabinets and how to properly paint them.
Also, simply decluttering your kitchen can help open up the room and create more counter space. Pack away the majority of the items you have been storing on your kitchen counter tops. Toaster ovens, crockpots, coffee maker and more. Remove the excess of magnets, school art, and pictures posted on the refrigerator as well.
4. Flooring
How does the flooring look throughout the house? Do you have hardwood floors that are scuffed up and faded or stained carpet that is worn out from daily traffic? Depending on the condition of the flooring in the house you will want to evaluate and determine if any of the carpet needs to be replaced or at least professionally cleaned. If you have hardwood floors you may also want to consider hiring a local company to come out and refinish the hardwood floors to bring them back to life and make new again.
5. Window Coverings & Blinds
Adding or replacing new blinds can add up quick! Especially at $40 to $60 a window. Upgrading the window coverings throughout the house is one tip that you may want to consider when thinking about selling your Louisville home this spring. Also, be sure to always have the blinds open before every showing to allow as much natural sunlight into the home.
6. Exterior Paint
Freshening up the exterior of your home can make a great first impression. Touching up any faded or chipping paint around windows and trim on the outside of your home can help make your home stand out. If you live in an older home you may already know that over time, even exceptional exterior paint, needs to be touched up. Doing so will help protect the bare wood over time. This will help prevent it from getting damaged or rotting from the exposure to the different elements.
Also, consider brightening up your front door. Cleaning the front door and adding a fresh coat of paint and even a new door knob and deadbolt.
7. Clean Windows
Your windows throughout the house can gather a lot of dirt and pollen over the years. Even if your windows don't necessarily need to be replaced, a good thorough cleaning on the inside and outside can make a huge difference. This is a small detail that at times may go unnoticed but surprisingly help let in more natural light. While cleaning the windows on the outside be sure to also clean the window ledges as well. Typically, there can be a lot of dirt and pollen that gathers and needs to be cleaned out.
8. Seal Your Driveway
With a freshly landscaped property added with a newly sealed driveway - your home can now drastically stand out from the rest of the competition. Get rid of those old oil stains and make that faded driveway look brand new again. This weekend project will allow your home to be showcased in a better light and can increase the chances of selling your home for more money. Staining your driveway requires desirable temperatures in order for it to be done properly. Research online for an informative tutorial if you decide to take on the project yourself.
9. Landscaping
This is not a top secret tip. Spending the extra time and money on the landscaping around the outside of your home is definitely a project you do not want to ignore. AWhen selling your house in the spring, a professionally landscaped design around your home can help you obtain a larger sale price, offsetting the cost that was initially spent. A buyer does not want to see a bed of weeds, overgrown shrubs, and mulch that has been washed away. Take advantage of the weather that comes along with spring. Warmer temperatures and an abundance of rain is the ideal weather that can really make your landscaping stand out.
10. Stain Your Deck
Replacing an old deck can be expensive. Try properly cleaning your old deck, replacing any damaged deck boards, and applying a fresh coat of stain to drastically improve the look. Be sure not to just go with the cheapest stain. Do your research on what brand and color of stain to go with. When doing this right, you will quickly discover that it is a long and tedious process.
Conclusion
Just like any other time of the year you want to successfully get your home ready to sell. This should be a well-planned out process that will indeed take time, energy and may cost a little money as well. Take pride and ownership in the sale of your home so you can truly maximize the market value when it comes time to sell.

Posted by Nathan Garrett on