Nathan Garrett
February 21st, 2020
---
[Estimated read time: 8 minutes]
Are you thinking about moving to Louisville, KY or do you know someone that is making the move? Here is a great guide to share with them so they can see first hand what it is like living in Louisville.
Louisville has continued to grow at a rapid pace over the last decade. Experiencing a sustainable economy and in return, great growth for Louisville real estate.
Living in Louisville, KY
When relocating to Louisville KY, at first you may not know what to expect. Below we will help you discover what makes the city of Louisville so great. We will uncover why residents love living in Louisville and learn more about attractions that take place throughout the year.
From live entertainment to amazing local parks. It's no wonder why the slogan for Louisville is the "Possibility City". If you are considering making the move to Louisville, you will quickly discover how much there is to offer here!
1. Great Food in Louisville KY
If you're planning on relocating to the Louisville area, you are sure to find some great food. There are many local Louisville restaurants that have much to offer! A wide range of selections to choose from around the city. From Kentucky home-style traditional cooking to French cuisine, Italian, Mediterranean and much more. With over 2500 restaurants; Louisville is becoming one of the ideal destinations for foodies around the US. With some of the best restaurants around. The city has even been named one of the Top Five "foodiest" small cities in America by Bon Appétit magazine.
FUN FACT: Kaelin's Restaurant in Louisville KY claims to be the original inventor of the Cheeseburger.
2. Must Visit Louisville Parks
Frederick Law Olmsted came to Kentucky in the 1890s to take part in the Louisville Park system. A highly recognized architect responsible for creating Central Park in New York. Olmsted's vision was to bring nature into the neighborhoods and it helped create some of the best parks in Louisville. In total, there are more than 120 public parks in the Louisville area.
Here is a glimpse at some of the popular parks in the Louisville area.
Cherokee Park
Cherokee Park is located in the Highlands neighborhood of the East End of Louisville. Being one of the most popular parks in the metro area. There is a 2.4 mile scenic Loop, a fenced dog park, and even a bird sanctuary. Cherokee Park is one of the 50 most visited parks in the United States.
Iroquois Park
Known for its panoramic views. Iroquois Park has over 730 acres, an open-air amphitheater, and a popular golf course. Iroquois Park attracts many visitors from hikers, runners, and cyclists. Iroquois Park is a great place for family outings and picnics when living in Louisville. A park with amazing views throughout the year.
The Parklands of Floyds Fork
The Parklands of Floyds Fork has acquired close to 4,000 acres of new parkland. Working with Louisville Metro and other nonprofit organizations, the new park system has become one of the most popular parks in the area. The park has many different features. Including a dog run, a splash park, canoeing, mountain biking, playgrounds and much more.
3. Local Live Entertainment in Louisville
If you are relocating to Louisville you'll want to experience some of the live local entertainment. There are many different clubs in the city that host live music. You will find that there is live entertainment to enjoy almost every night of the week.
Below is a list of some of the most popular festivals that are held on an annual basis here in the Possibility City.
FEBRUARY
Musique Romantique - Louisville Chorus at the Seelbach during Valentine's dinner.
MARCH
Itchin' to Pick – A weekend-long bluegrass jam session held at the Galt House.
APRIL
Kentucky Derby Fest-a-Ville - Outdoor music festival of various genres on the Waterfront.
GonzoFest – Various locations and concerts happening around Louisville.
MAY
Abbey Road on the River - Memorial Day Weekend at Belvedere Park. The largest Beatles tribute festival in America.
Kentucky Reggae Festival – Memorial Day Weekend at the Louisville Water Tower.
JUNE
Americana World Festival – a Multicultural celebration held at the Iroquois Amphitheatre.
VinylFest – Weekend of celebrating vinyl record collecting and music at the Crowne Plaza.
Kentuckiana Pride Festival – Celebration for the LGBT community and its allies on the Belvedere.
JULY
Waterfront Independence Festival – Fourth of July party featuring concerts, fireworks and more.
Forecastle Festival - Named one of the top 101 things to do in America by SPIN Magazine.
Blues, Brews & BBQ Festival – Local BBQ and the music of New Orleans and Memphis at the Louisville Water Tower.
Kentucky Music Weekend - largest traditional and folk music festival in the region held at Iroquois Amphitheatre.
AUGUST
Kentucky State Fair – Features free and paid concerts from multiple genres and national acts.
WorldFest – Celebration of world cultures held at the Belvedere over Labor Day weekend.
SEPTEMBER
Kentucky Bluegrass & Bourbon Experience – Live bluegrass, burgoo, barbecue, and bourbon.
Louisville Irish Fest- Live Irish and Celtic music and Irish dancers at Bellarmine University.
National Jug Band Jubilee - Gathering of the nation's best jug bands.
Louisville Music Awards – Celebration of local music held at Headliners Music Hall.
NuluFest – Street festival is the official after-party of IdeaFestival.
OCTOBER
Garvin Gate Blues Festival - Largest free neighborhood street music festival in Louisville.
Belknap Fall Festival – Great food, live music, and local artists. A street festival off of Douglass Loop in the Highlands neighborhood.
DECEMBER
Give a Jam to End Homelessness – Local musicians and chefs come together to raise money for the homeless.
FUN FACT: Patty & Mildred Hill of Louisville KY wrote the most recognized song in the English Language "Happy Birthday to You".
4. Louisville is Known for its Bourbon!
Did you know that Louisville is responsible for 95% of the world's supply of Bourbon? Kentucky is well-known worldwide as the birthplace of Bourbon. When moving to Louisville, experience the history of Bourbon in the Bluegrass. Visit the many different tours around the city and embark on the historical heritage of Kentucky's past roots. Visit the Kentucky Bourbon Trail.
In 1964 Congress declared Bourbon, America's only native spirit. There is a very strict guideline for whiskey to be considered Bourbon. The drink shall be at least 51 percent corn, aged in charred new oak barrels, stored at no more than 125 proof and bottled no less than 80 proof.
"Bourbon is kinda like whiskey's sweet spot"
Collect Your Bourbon Stamps
Many locals and out-of-towners take a trip down to the Urban Bourbon Trail. As a visitor, you will experience the taste of more than 50 different Kentucky Spirits and collect stamps along the way as a souvenir.
5. Louisville's Weather is kinda...Crazy!
Many people ask when moving to Louisville. "What's the weather Like?" Louisville's Weather has four distinct seasons. Spring, Summer, Fall, and Winter. The average temperature in most parts of Kentucky for the summer is 88 degrees. However, there are many days in the summer where temperatures can easily exceed the upper 90's or even into the 100's.
As for the winter months...the average temperature is 37 degrees. At times the temperature can even drop below zero. March is usually the wettest month of the year and October tends to be the driest month of the year. If you visit Louisville in the Summer months, be sure to bring the right clothes. It can be very hot and humid at times!
Allergies?
One downside to living in Louisville and the local weather...is that the majority of people that live here suffer from allergies. Being that Louisville is located in the 'Ohio Valley' you may experience this as well. Running nose, itchy eyes, and sneezing will become the norm during the Spring and Summer months.
Search all homes for sale in Louisville
6. Louisville is known for College Basketball
If you are moving to the Louisville area, you will notice that College basketball is a hot topic around town. Louisville is towards the top of the list of CBS 'Best in College Sports'. As a Louisvillian you will also have to pick one or the other to cheer for.
With the history of both teams and their success, no matter which one you choose will be a great pick. The great excitement stems from the rivalry between these two teams. Louisville Cardinals and the Kentucky Wildcats will always be a highly debated conversation. This in-state rivalry can be easily compared to the Duke and North Carolina rivalry.
7. Kentucky Derby - A Great Reason to Move to Louisville
Dating back to the late 1700's horse racing has been part of the state of Kentucky. But it wasn't until 1875 when they opened the doors to Churchill Downs. Home of the Kentucky Derby, the fastest two minutes in sports and also home to the Kentucky Oaks. Always on the list for things to do in Louisville, Kentucky.
"the fastest two minutes in sports"
Churchill Downs was built in 1895 and designed by Joseph Dominic. The twin spires are the most recognizable feature of the racetrack. As of today, Churchill Downs holds the record for the longest-running, continuous sporting event in the United States.
FUN FACT: Thunder Over Louisville is the Largest Annual Firework display in America.
8. Home of the Louisville Slugger
Hillerich & Bradley Co. moved into the new headquarters of Louisville Slugger Museum & Factory in 1996 off of West Main Street in downtown Louisville. One of the most popular attractions in the city. At Louisville Slugger Museum & Factory they continue to custom make many baseball players bats. The museum can be easily spotted by the "Worlds Largest Baseball Bat" that sits out front. Made from steel, weighing 68,000 pounds and over 120 feet tall. One of the many reasons why millions of people have visited the museum.
FUN FACT: Standing at 120 feet tall in front of the Louisville Slugger Museum is considered to be the Worlds Largest Bat.
9. Living in Louisville KY = Convenient Location
One reason why people love living in Louisville KY is because of its convenient location. The average drive to work is under 25 minutes. Louisville is within a day's drive to two-thirds of the U.S. population. With the addition of the new East End Bridge near Prospect. It will improve traffic and will allow for more convenient trips around Louisville.
10. Great Neighborhoods in Louisville KY
Over the years Louisville has been home to some of the most popular neighborhoods in the local area. You will find that the most common type of real estate is single-family homes and condominiums. If you are relocating to Louisville KY, you will find that the most popular style of home is a ranch. Many subdivisions also have homeowner associations to help sustain a stronger community. Take a look at some of the most popular neighborhoods in Louisville below:
Louisville Area Real Estate
Final Thoughts: What to Love about Living in Louisville
When making the move to Louisville KY. You will notice that homes in Louisville are very affordable compared to real estate in other metropolitan areas. With the strong economy and job growth in the city, we have seen home values continue to rise over the past few years.
In the past decade, we have seen a steady climb in the median sale price in houses in the Louisville area. As of right now, we are witnessing a shortage in MLS listings because of the high demand. This is actually good for both buyers and sellers.
If you are making the move to Louisville or are thinking about relocating here in the future. It's safe to say that Louisville is a great place to live, work, and play. With the population on a constant rise, year after year, you will be sure to make new friends on your new journey. As a lifelong resident of the Louisville area myself, feel free to contact me or comment below if you have any questions. Look forward to hearing from you!!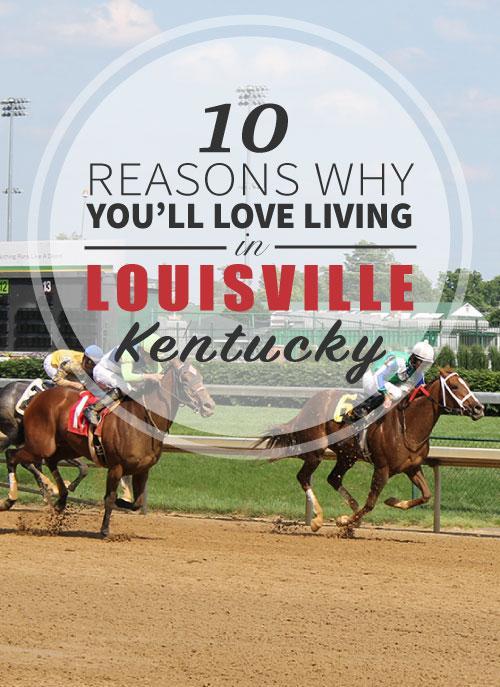 Posted by Nathan Garrett on