[Estimated read time: 6 minutes] - Originally posted May 23rd, 2017
What is Staging a house?
Staging a house is when you prepare the interior of the home so it is ready for the market and exposure. Transforming the house so it is appealing to a larger group of buyers and not one's specific taste. There are many different tips, tricks, and techniques for staging a house. Below we will go through some easy tips on how to stage a house. These steps will help you successfully get your home ready to sell.
Staging by Category:
Living Room Dining Room Kitchen Bedroom Bathroom Entryway
---
Embed This Image On Your Site (copy code below):

---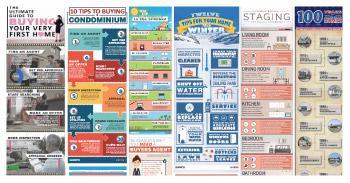 Do You Love Real Estate Infographics?
Check out some of our other top trending infographics and let us know what you think!
---
How-to Stage a House
Statistics show that a staged home can make it easier for a buyer to fall in love with a home. Homebuyers tend to have a list of things they are looking for in a house. When staging is done correctly you can expect to sell your home faster and for more money. With most home shoppers finding their homes online, professional photography is also important when selling a home. This is when the 'first' showing truly takes place. Below are easy-to-follow tips to staging a house to sell. Even if you are on a tight budget!
Tips to Staging a Living Room
Go through your house and remove any unnecessary furniture to help open up each room.
Pull furniture away from the wall in certain rooms such as the living room to help create more space.
Consider replacing dated curtains with newer ones. This will help freshen up the room.
When hanging pictures, group smaller, like-kind art together.
If you have cords and wires showing from TV's, receivers, lamps or any other electronics. Consider tucking cord's away so they are not visible.
When staging a home, you likely hear the word de-personalize. One way to do this is to pack away any family portraits you have around the house.
A lot of households have magazine racks packed with old editions that never get looked at. Pack them away or recycle them!
When looking for ideas to staging a living room, you will notice that walkways don't usually look bare. Consider adding a long narrow rug to fill in the empty space.
When hanging art throughout the house, hang the largest artwork on the largest wall.
After removing your old magazines, add a nice coffee table book in its place.
STAGING COST: The median cost to stage a home is $675 for each home.*
Staging Your Dining Room
Remove any extra table leaves and store them away to help make the dining room feel larger.
Properly set the dinner table as if you are having guest over for a special occasion.
Hang light-colored curtains from floor to ceiling. This will help give the perception of taller ceilings.
Clean and open blinds to let in more natural light.
For the time being, replace low wattage light bulbs with 100 watt light bulbs to brighten up darker rooms.
Add more life and color by bringing in different kinds of plants into the house.
Add an extra lamp or two to bring in more light in dark areas that are hard to light.
Add mirrors for more light and to help give the perception of an open area.
Don't hang art and pictures on every wall. Consider leaving one wall bare.
When home staging, hang wall art at eye level.
Ways to Stage Your Kitchen
Clean and pack away most of the items that are usually stored on your counters.
One old staging tip is to add a bowl of fruit to bring in more color.

Staining or painting dated cabinets can be time-consuming but can

easily

transform a kitchen

.

After updating your dated cabinets, also consider replacing the old knobs and hardware.
Another way to de-personalize when staging a house is to remove all items from the refrigerator.
Spice up the kitchen! There are many quick and easy ways to add a new backsplash to add more personality.
Consider replacing that old, dated faucet with a brand new faucet.
Loud and bold colors can be a quick turn off for homebuyers. Consider repainting any rooms a more neutral color.

One easy way to add more natural light is by

simply

cleaning all windows inside and out.

Fix any leaking faucets, contact a local, licensed plumber referred plumbing issues. These are things buyers look for when looking at houses.
BONUS: Thirty-two percent of buyers' agents believe staged homes increases the dollar value buyers are willing to offer by one percent to five percent.*
Staging Tips for a Bedroom
Organize your closet by hanging clothes in groups and have them facing in the same direction.
One way to make a room feel more relaxing is to remove TV's or any other entertainment items.
Replace old bedsheets with new, white textured linens.
Make a bedroom feel more inviting by making the bed and adding new pillows and throw pillows.
In smaller bedrooms, it's hard not to have the bed pushed into the corner. Consider pulling the bed away from the wall to help balance the room.
Bookshelves tend to collect more than just dust over the years. Clear out all bookshelves and built-ins.
Clean out and pack away half of the stuff in the closet. Homebuyers almost always look into the closets when looking at homes for sale.
When cleaning out the closet, replace any un-matching hangers so they all match.
Some homeowners have complete sports or princess themed bedrooms. It's a good idea to transform these rooms into a more neutral bedroom.
When transforming a playroom over to a neutral bedroom. Clean up and store away most of the toys. This will help when its time for moving.
Bathrooms need Staging too!
Put away toothbrushes, toothpaste, shampoo, and any other toiletry items.
Add new, white towels to the bathroom. Consider folding towels into thirds to take up less wall space.
Remove old, moldy caulk and apply new white caulking around the bathroom.
Hide or store away wastebaskets.
Add one new bottle of nice hand soap on the bathroom counter.
Roll small, light-colored hand towels and place in a basket on the counter.
Make sure you thoroughly clean the bathroom. Including the bathtub and even behind the toilet.
Hang a new, white shower curtain or clean the old one to make it look new again!
This is a pet peeve for not only most real estate agents but for some homebuyers. Always keep the toilet seat/lid down.
Quiet doors will go unnoticed but a squeaky door will stand out to a homebuyer. Fix any squeaky doors throughout the home.
More Tips to Staging a House for Sale
Give the entrance of a home a new look by cleaning and painting the front door.
One creative way to add personality to the entrance of a home is by adding new attractive house numbers.
Pack away any shoes or coats that are usually kept at the front door.
Replace that old, worn-out Welcome mat with a new one.
Make sure all doors not only open and close easy but that they are also easy to lock and unlock as well.
If you have pets or if you wear shoes in the house -- chances are that your carpet may need to come extra attention. Give your carpet a good deep clean.
When packing away items don't just stick them in closets or in corners behind furniture. Get started early and be creative when decluttering your home.
Remove any signs of pets so any visitors do not easily notice them.
Sometimes homebuyers like to randomly check windows. Make sure all windows open and close easily.
When cleaning the house before a showing – make sure you clean and dust ceiling fans too.
* 2015 Profile of Home Staging." www.nar.realtor. N.p., 27 Jan. 2015. Web. 23 May 2017.


Posted by Nathan Garrett on