[Estimated read time: 6 minutes]
A Timeline for the Different Types & Styles of Homes in America.
Over the last century, homes have noticeably changed from the size of the home, the style, and even how the home is built.
Let's take a look at the Infographic below and see the changes over the years.
---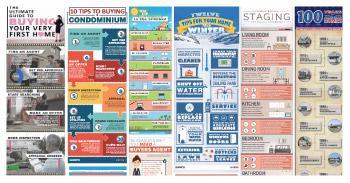 Do You Love Real Estate Infographics?
Feel free to check out some of our other top trending infographics and let us know what you think!
---
The Evolution of American Homes by Decade
It is amazing how homes have evolved over the years. With new trends already taking place in the new century, it will be interesting to see how homes will look over the next 100 years. In chronological order, let's look at the different styles of houses in American.
QUEEN ANN STYLE (1900's)
At the turn of the century, one of the popular styles of homes being built during the Victorian Era was the Queen Ann style. In the late 1800's and early 1900's, many Queen Ann homes were constructed across the country. This style of home is popular in areas of Louisville like the Highlands and Cherokee Triangle. These homes had unique features. One being the irregular hipped roofs. Typically, most Queen Ann homes featured steeply pitched roofs with decorative shingles.
Some Queen Ann style homes also featured covered porches that would partially wrap around the house. Queen Ann style homes can be found to have unique spindle work that compliments these homes with great, decorative detail. These style of Homes quickly decreased in popularity within the first decade of this century.
PRAIRIE STYLE (1910's)
Another popular style of home in the early 1900's was the Prairie Style home. These style of homes were mainly found in large midwestern cities in the US. Prairie style homes originated in the suburbs of Chicago in the early 1900's.
The American Foursquare or also known as the 'Prairie Box' is probably the most common style of Prairie homes found in the US. Builders produced many Prairie-style homes in the early 1900's but quickly lost popularity in just a couple decades. Known to be one of the shortest-lived styles of homes over the last 100 years.
TUDOR STYLE (1920's)
In the late 19th century and early 20th century, Tudor Style homes became more and more popular throughout the United States. A medieval influenced style home. These homes were typically brick on the first story and then a mixture of stucco and half-timbered patterns on the second story.
Typically Tudor Style homes had multiple, steep side-gable roofs. Many of these homes in America would have a combination of double-hung windows and casement windows.
CRAFTSMAN-BUNGALOW (1930's)
Another popular style of home was the Craftsman Style home that originated in southern California and spread throughout the US from the early 1900's but quickly lost popularity around the 1930's.
These bungalow-style homes typically featured low-pitched gabled roofs with very broad waves. Open floor plans with unique, handcrafted details throughout. Featuring custom built-ins, bookcases, inglenooks, window seats and more. The one-story Craftsman style home was one of the most popular around the country during this time.
MINIMAL TRADITIONAL (1940's)
Just after the Great Depression, a distressed home-building industry was facing some challenging conditions. There was little to no funding for new construction build. During this time, Minimal Traditional Style homes were first introduced.
Minimal Traditional homes were the perfect solution for the housing industry during this time. Builders and Developers quickly got started building neighborhoods across the US that were made up of Minimal Traditional homes. After World War II, there was an explosion of new homes being built across the United States to also house the service men and women returning from war. It wasn't shortly after, that the Ranch style home was introduced and started to take over in popularity.
RANCH STYLE (1950's)
Quickly taking over in popularity during this time was the Ranch Style home. These homes were rapidly being built in the 1950's and 1960's. Just after World War II, the Ranch style home was one of a few, small style floor plans that met FHA guidelines.
What is a Ranch home? A Ranch home is typically a one-story home that is built relatively low to the ground with cross-hipped roofs. Over the years Ranch style homes have grown in size and but have continued to be a popular choice for Developers and new homeowners looking to buy a home even until this day.
SPLIT-LEVEL HOMES (1960's)
Another style of home that popular during the 1960's was the Split-Level Style home. These homes were ideal for many homeowners that were looking to gain additional square footage in areas where land may have been more expensive.
Compared to the one-story Ranch, a Split-Level home had multiple 'levels' but with similar building styles. There are different forms of a Split-Level home. A Bi-Level Split and a Tri-Level Split being the two most popular. During this time Split-Level homes began to become even more popular than the Ranch style home.
CONTEMPORARY STYLE (1970's)
In the 60's and 70's many new Contemporary Style homes could be found being built tucked away on large, shaded lots. Because of the unique and asymmetric design, these homes were also found situated on hillside's.
To fit into the surroundings, these homes typically used wood or stone for the exterior and at times were found to have a flat roof line. Open floor plans and large windows to let in extra light were also common in Contemporary homes.
NEO-COLONIAL STYLE (1980's)
This American house style is a newer and more modern day design that was influenced by the original Colonial style. The New-Colonial Style house were typically two-story, brick built structures.
During the 1980's and 1990's that were many new developments across the United States that was made up of the Neo-Colonial style home. Here locally, a lot of houses in Oldham County, KY and Lake Forest consisted of this style. These homes would include much larger floor plans compared to other popular American home styles in the previous decades.
MILLENIAL MANSION (1990'S)
Found in many larger neighborhoods across the United States. Millennial Mansion also known as the McMansion. These homes have continued to grow in popularity over the last twenty years in areas around Louisville and Oldham County.
Just like the New-Colonial, the McMansion had large floor plans. Some criticized the size of the homes for being too large.
NEO-ECLECTIC (2000's)
A popular style home at the turn of the 21st century is the Neo-Eclectic Style. These types of homes are usually influenced by many different styles, combined into one. Neo-Eclectic homes are typically setback from the street with larger front yards and landscaping.
The structure itself may imitate many different, historic styles, with a mixture of features. High pitched roofs with multiple gables. Open floor plans with multiple, designated rooms.
Different Types of Houses by Decade. Whats Your Favorite?
We were able to put this timeline together after research and gathered information from different sources. After looking at the different types and styles of homes in America over the last 100 years. What is your favorite style of home?

Posted by Nathan Garrett on