[Estimated read time: 10 minutes]
Everybody remembers buying their first home. It is a timely process and requires careful planning to make the process a successful one. Chances are if you are a homeowner, you remember when you bought your first piece of real estate. It is an exciting and memorable experience.
In this article, we will go over the different steps involved and help guide you through the process and what you should expect before searching for Louisville homes for sale.
Embed This Image On Your Site (copy code below):

---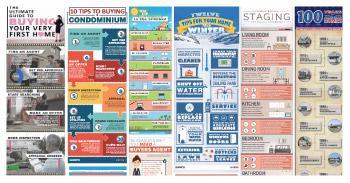 Do You Love Real Estate Infographics?
Check out some of our other top trending infographics and let us know what you think!
---
Steps to Buying a Home
Let's take a quick look at what to expect during the process of buying a house. Keep in mind that every transaction is different and can present different obstacles along the way.
1. Find an Agent
One of the first things to consider when buying a house is finding a great Realtor®. You can expect, when buying a home in Oldham County, it can take anywhere from three to six months when buying a home. It is strongly recommended that you pair up with a good real estate agent that you feel comfortable working with throughout the transaction.
An experienced agent can help navigate you through this process smoothly and make for a more enjoyable process when buying your first home.
It is very important and extremely beneficial for any first-time homebuyer to team up with a good Realtor®. Being new to the process, chances are, you are not sure what questions to ask when buying a house.
No need to worry.
Your agent will help you through the beginning steps and get you in contact with one of their preferred lenders to help you get started.
2. Get Pre-Approved
This is one of the most important steps when making the decision to buy your first home. Before moving forward and going out and scheduling showings, it is crucial that you fully understand what you can afford and what your budget should be.
There are many different lenders to choose from so it is important that you get with a good lender when getting pre-approved. This will help verify that you are actually financially able to purchase a home and you are ready to carry the mortgage on a property. This step will also give you more clarity on what price range you should stay within as well.
Waiting to get pre-qualified is one of the biggest mistakes many first time home buyers make. That is why many agents ask if you are pre-approved from the very beginning, this helps prevent buyers from looking at properties that may not be in the right price range. Doing so can set very high expectations and can make the home shopping process more difficult down the road.
"What kind of home loan should I get?"
One of the most important things to consider when buying a house in Louisville is -- what type of home loan should I get? Below we will take a quick look at the different kinds of home loans that may be available to you. There are even first time home buyer programs available as well.
When talking with your and lender you will become more and more familiar with the different types of mortgage loans that are out there. As a borrower, you will have the option to decide between a fixed rate mortgage or an adjustable rate mortgage loan.
Fixed Rate Mortgage
A fixed-rate mortgage carries an interest rate that is locked in and stays the same throughout the life of the loan.
Adjustable Rate Mortgage
As for the adjustable rate mortgage (ARM's), the interest rate can change periodically and your rate can either increase or decrease from time-to-time.
Conventional Loans
A conventional loan usually requires a larger down payment and has its benefits. This type of loan is not guaranteed or insured by any government agency, such as the Federal Housing Administration (FHA)
FHA Loans
Federal Housing Administration mortgages have its benefits, such as lower down payments. These loans are available to all borrowers and not just limited to first-time homebuyers. One disadvantage for an FHA loan is the additional expense of mortgage insurance.
VA Loans
U.S. Department of Veterans Affairs offers mortgage loans to eligible military service members and their surviving spouses as long as they do not remarry.
USDA Loans
United States Department of Agriculture offers loans to borrowers who meet certain requirements that are considering purchasing a home in rural areas.
3. Start Your Search
Now that you are moving down the checklist of buying your first home and have got in touch with a lender. It is now time to start searching for your new home. Chances are you will do a majority of your searching online. Ask your agent if they have their own website for you to search for homes online. Usually, a well-established agent will have a professional website that has the local MLS feed that is accurate and up to date with all of the new hottest listings. Consider signing up for email alerts for homes that fit your criteria. This is important in a seller's market when homes are selling within days of being listed.
There are third party websites that are not always accurate and sometimes slow to post new listings and at times may even be 24 to 48 hours late on just listed homes. By this time, the home may already be under contract. That is why it is important to use a local website when searching for homes for sale.
Schedule Showings
You will notice that once you start viewing homes in person that some of the properties are less desired in person than they are online. If you schedule a time to go out with your Realtor® for a full day of showings it is recommended that you bring along a legal pad to take notes. After looking at a handful of homes, they tend to run together and are hard to separate one from the other. This will also help narrow down your criteria so you can keep a better pulse on what is truly important to you after reviewing your notes.
4. Make an Offer
Now that you have narrowed down your search criteria and have likely walked through a dozen homes. You have finally found the right one. When you are in a seller's market you really do not have time to sleep on the decision to move forward.
Understand the proper timelines and contingencies that you are putting into the contract. Be sure to ask important questions that may affect your decision. We have a lot of neighborhoods in Louisville that have an HOA. If there is an HOA in the subdivision of your new home, it is important to find out how much the HOA dues are. What are the restrictions for the neighborhood? How much are the annual taxes? What is the age of the roof? How old is the HVAC and the appliances?
Counter-offer
Chances are after you submitted your offer the seller responded with a counteroffer. Don't be discouraged, this is commons or most transactions. Keep in mind that there are two parties to the deal and the seller is nervous and full emotions too. Offers can go back and forth a hand full of time and in some cases, both parties may not come together no matter how close the initial offer is to the sale price. It is important that you keep a level head and be all ears to the advice given to you by your Realtor®.
Accepted Offer
Congratulations! You have an accepted offer. The next step to buying a house is you will need to write a check for the earnest money to be placed in an escrow account. Be sure to stay involved in the transaction all the way up to the closing. There are many different deadlines that need to be met and by meeting these deadlines on time will make for a more success closing. Communication is key for the steps ahead.
5. Home Inspection
When buying a home, there are a lot of emotions involved. It is hard not to get consumed by the feelings and ignore the signs that can surface and get in the way of making rational decisions.
If you made the right decision and chose an experienced real estate agent with excellent resources then chances are that your Realtor® recommended a top-notch home inspector to comb through your new home.
It is highly recommended that you be present during the home inspection and ask questions. This will help once you get the report from the home inspection and will help better understand it.
6. Appraisal Ordered
Now that you are past the home inspection contingency and the seller has agreed to any necessary repairs that are needed on the home. Your lender, by this time, will have ordered the appraisal. When the appraiser comes out to take a look at the home, depending on the loan, their main objective is to verify that the home appraises for at least the value of the sale of the home or the amount of the mortgage that is being carried on the property.
This ensures and protects the lender that there is adequate collateral on the house in case the homeowner defaults on the loan.
Once the appraisal comes back OK and you are clear of any issues with the appraisal. You are that much closer to getting the keys to your new home.
7. Choose Your Homeowners Insurance
Start shopping around for homeowners insurance. Here in Louisville, we recommend to our clients to call around to at least two or three different insurance companies to find the one that fits your needs the best at the best possible rate. Usually, you will find that the insurance company you are already with if you have car insurance or renters insurance. Bundling your insurance can give you better rates.
8. Set Up Utilities
Now that you are getting closer to the closing, it is a good idea to go ahead and contact the utility companies. Once you have an exact date you can let them know when you will need the utilities to be turned on.
If the seller hasn't already provided a spreadsheet of the average utility bill and how much the payments are every month. Feel free to ask how much the utilities run every month.
9. Final Walk-through
After all of the underwritings is completed and you receive the clear to close you will schedule a closing date. Usually, you will set up the final walk-through the day before the closing.
Final Walk-through

When you are doing the final walk-through on your new home, it is important that you know what to look for. Make sure that you double check that all of the necessary repairs that were requested during the home inspection contingency has been met and completed.
At this time, the seller should have all of their belongings removed from the home unless otherwise agreed upon other terms. The home should also be 'broom clean' and ready for you to move your belongings in.
Who chooses the closing company?
Typically, the lender that the buyer uses has a preference as to what closing attorney and company that they will likely use. Once you have the clear to close the buyer can choose the day and time of preference that they would like to close. This designated time still has to be an agreed upon time by both parties.
Closing Cost
Closing cost are 'fees' that are paid for by either the buyer or seller. Charges are from the services that have taken place associated with the real estate transaction between the two parties. A typical cost that occurs for a real estate closing is: loan origination fees, appraisal fees, title search, and title insurance cost and other underwriting and recording fees are common.
Closing cost can usually be are 2 to 5 percent of the price of the home.
10. Closing
It has been a long road and hopefully not too many bumps along the way. Now that you are a new homeowner it is important to stay on top of the maintenance that comes along with home ownership. Also, don't forget to learn more about the tax benefits that come with owning a home as well.
Owning a home is an American Dream but it also comes with a lot of upkeep along the way.
Be sure that you keep a set checklist to do the routine maintenance on your home every year. It can become very overwhelming if you put these task off and let them pile up.
Posted by Nathan Garrett on