[Estimated read time: 6 minutes]
How to prepare for a successful move?
Moving can become hectic and stressful fast! Be sure not to procrastinate and get the process started as early as possible.
The average real estate transaction can take anywhere from 4-6 weeks. To help, we wanted you to get a head start! Below is an easy to follow infographic to use as a guide so you can have a successful moving day.
Embed This Image On Your Site (copy code below):

---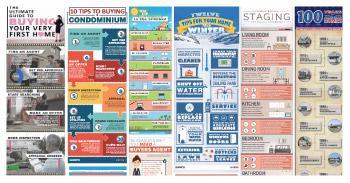 Do You Love Real Estate Infographics?
Check out some of our other top trending infographics and let us know what you think!
---
8 Weeks Out
INVENTORY: Before getting started you need to know what you got. Take inventory of all of your belongings. Go through everything and sort by importance first. The less important things that you can go without for a while...start packing these items first.

ORGANIZE: It will get very overwhelming fast. Take your time and create a good filing system for all of the important documents. Make sure they are securely packed and labeled important. If you are fearful of the box(s) drawing too much attention, use a 'code' word. Be sure to keep all receipts from moving too.

DECLUTTER: It is always a good idea to declutter before selling your home but also before you move. This is a great time to donate or get rid of any unwanted items that you no longer need.

MOVING COMPANY: When looking for a moving company be sure to do research fully to find a trusted moving company. There have been plenty of horror stories about moving companies, some real estate agents choose to stay away from referring any companies specifically. Be sure to do your own due diligence.

SUPPLIES: You will need plenty of packing supplies. Stock up on all of the needed packing material so everything is packed properly and securely.
6 Weeks Out
DOCTOR: Over the years you may have grown to have a relationship with your family doctor. Ask for a possible referral to a new doctor your new hometown. Also, search local online open forums like Reddit, CityData or even Facebook groups for recommendations. Again, be sure to do your own due diligence.

YARD SALE: After you have gone through most of your belongings and are purging stuff. Have a large yard sale to get rid of unwanted things. Putting together a successful yard sale can also help pay for the move. Be sure to donate any items that don't sell.

LABEL EVERYTHING: While packing everything into boxes, be sure to label everything so it will be easy to locate once you have moved. A great moving tip is to organize by room or even color coordinate labels so they can be easily spotted when everything is together.

SCHOOLS: Contact kids current school and gather any school documents that will be needed for the new school.
5 Weeks Out
FOOD & DRINKS: Start cleaning out the pantry and the refrigerator Also, start cutting back on groceries as well. The last thing you want is to throw out a bunch of food or try to pack it all up and take it with only to go bad.

PACKING HACK: When packing small items, you'll find that they will quickly take up more space than you expect. Fill larger items like a crockpot with small things like spices or even medication to better utilize the space.

ANTIQUES: Have valuables and antiques appraised just in case any accidents occur during the move. Check with your insurance to see if they cover accidents as such during a move.

MECHANIC: Before hitting the road, have your car serviced so it is ready to make the big trip. Also, a good idea just in case you don't have a reliable mechanic in line already in the new city. This way you have enough time to settle in and get unpacked before you have to worry about finding a reliable mechanic.

INSURANCE: If moving to a totally new area or state, you will likely have to find a new insurance company. Many homeowners bundle all their coverage all with the same company to get better rates. Find a local insurance company in your new hometown to start shopping great rates.
4 Weeks Out
ONLINE ACCOUNTS: Be sure to update the contact information for online accounts. Things like billing, banking, retirement accounts, and anything else of importance so it will be mailed to the new address. Also, update e-commerce sites that you use frequently so they don't accidentally ship to the old address...

GOVERNMENT: Notify places like the DMV, Social Security offices, and IRS of your change of address.

VETERINARY: If you have pets, gather any information needed to transfer veterinary records to your new pet doctor. Ask for a referral to a new veterinary as well if you don't have one.

POST OFFICE: Submit for a change of address at the post office so mail is sent to the new house.

BANKING: Depending if you are changing banks, consider preordering new checks with the new address on it.
3 Weeks Out
HAZARDOUS ITEMS: Properly dispose of hazardous items that you will not be taking with you. Used oil, gas, paint, etc...

CLEANING SUPPLIES: Leave out cleaning supplies so you can properly clean the house after all packing and moving is done. Also, take these items with you just in case you need to spot clean the new house.

LABEL EVERYTHING: Again, make sure everything is labeled & numbered. This will help keep better track of all your belongings. (Box 1 of 42).

COMPUTER FILES: Consider backing up all important files on your computer and pictures too. Store on a portable hard drive. Don't forget to take pictures of the move too.

PRESCRIPTIONS: Depending on if any family members are taking any medication, it is a good idea to stock up on any medication and make sure prescriptions are filled prior to moving.
2 Weeks Out
JEWELRY: Pack away jewelry and any other valuables separate to be moved with you personally on moving day.

DOCUMENTS: Create a folder that will stay with the old house with all receipts, copies of warranties, and manuals.

NEWCOMERS GUIDE: Contact the local chamber of commerce in your new city and request for a newcomers guide. These guides are usually packed with great information.

UTILITIES: Schedule the disconnect date for all of your utilities. If unsure, ask your real estate agent. Usually set the disconnect or transfer for the day after closing. Also, call and schedule to have the utilities for the new home transferred over to your name when you expect to close.

PACKING TIP: Moving is hard work and can be exhausting. Especially the heavy lifting. Consider packing heavy things like books in a suitcase with wheels to make for easier hauling in and out of the house.
1 Week Out
REFRIGERATOR: Unplug the refrigerator two or three days before moving so it can fully defrost. Once it is fully defrosted, clean the inside and outside of the fridge, stove and microwave.

PACKING TIP: Shrinkwrap furniture to help prevent scratches and damages during the move.

LAUNDRY: Make sure all dirty laundry is done so you have all clean clothes when you unpack!

TV MOUNT: Today a lot of homeowners mount their TV's to the wall. Before removing the mounting hardware, ask your real estate. It might have to stay since it is attached to the property.
Moving Day
WALK THRU: You've made it! Congratulations!! Walkthrough the house to make sure everything is packed and moved. Check closets, attic, crawl space and any other crack and crevices.

NEW ADDRESS: A small moving tip is to leave your new address on the fridge or counter, so the new homeowners can forward you any mail.

OLD KEYS: Just before leaving make sure all copies of keys and garage door openers are together for the new homeowner.
BONUS: Don't forget to take the last picture in front of the home before you hit the road.
Conclusion
Typically buyers are not just buying a home but also selling a home at the same time as well. Which can make for a lot of moving parts. During this time buyers have plenty of questions. When there are contractual deadlines to meet and you are in the middle of two transactions, a lot can happen. Hopefully, this moving guide will help you have a more stress-free move.


Posted by Nathan Garrett on