[Estimated read time: 4 minutes]
Pricing a home can be tricky and can cost a homeowner thousands if not done correctly. Below we will quickly highlight some strategies to help you get started to help you understand how a professional may price your home correctly.
From searching for good comparable properties to using a specific pricing strategy. There are many different ways to find the market-based value of a home. Most homeowners do a pretty good job at keeping up with the activity in their neighborhood.
Here's how you can effectively price your home like a pro!
---
Embed This Image On Your Site (copy code below):

---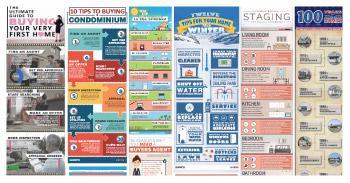 Do You Love Real Estate Infographics?
Check out some of our other top trending infographics and let us know what you think!
---
Getting Started: Home Pricing Strategies
Below is an easy-to-follow guide to help you find solid comparable homes. However, since you may not have access to the local MLS and all sold data, it is important that if you want to truly get a good accurate value on your home you should contact a local Real Estate Professional in your area.
1. Find Nearby Sold Properties
First, you want to find sold properties within a one or two-mile radius of the subject property. Ideally, depending on the neighborhood turnover rate, there may be enough activity within the subdivision itself to get started. If there are 12-16 homes that have sold in the last 12 months this is a great start. Some of these homes will be filtered out once you narrow down similarities and certain features.
However, if you are in a more rural area with little turnover - you may need to expand your search a little more in order to find more comparable properties.
2. Sold in the Last 3-6 Months
Now that you have pulled in all the sold data within a close distance of your home. You will want to narrow it down to homes that have sold within the last 3-6 months. Since the real estate market is constantly adjusting if you go back further than 6 months. You may not get a good comparison to the current market value.
3. Similar Style of Home
Your list should be getting smaller and smaller as you start to narrow it down. If you look closely at each property, you will notice that there are different styles of homes. If you are wanting to find the true market value of your home, it's important that you only compare to similar style homes. Cost of construction on a 2,000 square foot home can be different from a traditional 2-story home compared to a ranch style home.
4. Look at Age of Home
Compare your home to other properties that are within the same age. This doesn't have to be the exact age but within a 10-year span would be key. Of course, the condition can play a big role in age as well. One home maybe 40 years old that was recently updated versus one that has not been updated and is completely original.
5. Size of Comparable Homes
The size of the home is very important when looking to find out how much the price of your home is. Compare your property to other homes that are within a 10-15% difference in square footage. If your house is 2000 sqft. Filter out homes that don't fall in between 1800 sqft - 2200 sqft.
Bedrooms-Is the homes similar in size and have the same number of bedrooms.
Bathrooms- How many bathrooms or half baths compared to the subject property.
Basement- Be sure to look to see if the home has a basement. Finished or unfinished?
Garage- Does the comparable homes have an attached or detached garage.
Quick tip: It's important that you concentrate on finding the best list of comparables as possible to help you price the home correctly.
---
Finding the Market Based Value of Your Home
Now that you have narrowed your search down to three to six properties, you need to determine a pricing strategy. There are multiple ways to do this. We will highlight three ways to help you achieve this. Some professionals will even use a hybrid approach by using the Qualitative analysis added with the Quantitative analysis.
Ranking Strategy
Arrange sales from lowest to highest price and determine where your property falls to find the approximate market based value. This can be a similar approach to the qualitative analysis below. Look at each comparable property, and by using your judgment determine which house has superior features that are important to Buyers in your market. Then decide where your home falls within the list.
Qualitative Strategy
The qualitative strategy as mentioned above determines the market value by using judgment. Determine what features are the most important to Buyers currently in your market and grade each one accordingly.
Quantitive Strategy
A more precise measurement is the Quantitive analysis, this strategy determines the market value by making mathematical adjustments by using a dollar amount or percentage for different features and upgrades. This is more if an advanced approach when pricing a home.
Conclusion
This is a do-it-yourself approach to help you get a general idea of the price of your home. When trying to price your home on your own, it can be very easy to make mistake resulting in an inaccurate valuation. It is important that if you want to truly get a good accurate value on your home in today's market you should contact a local Real Estate Professional in your area. Some real estate agents will provide you a free, no obligation CMA report or you can contact a local Appraiser as well which is not free but can be more thorough.


Posted by Nathan Garrett on