Welcome to the Norton Commons neighborhood. A dynamic community situated on 600 acres in Prospect. Growing at a rapid pace, with more than 1000 residents, and more than 50 businesses. A neighborhood that attracts buyers from all over! Searching for the newest Norton Commons homes for sale. Known as one of the first Traditional Neighborhood Developments in the state of Kentucky. Added with three different schools and many different parks. To help preserve the architectural standards of Norton Commons, there is a Builders Guild. Which brings together some of the most recognized builders in the Louisville area.
Norton Commons Homes for Sale
Norton Commons Real Estate Statistics
| | |
| --- | --- |
| Avgerage Home Price | $867K |
| Lowest Priced Home | $460K |
| Highest Priced Home | $1.4M |
| Total Homes for Sale | 44 |
| Avg. Days On Market | 115 |
| Avg. Price/SQFT | $322 |
Property Types (active listings)
About Norton Commons Neighbohrood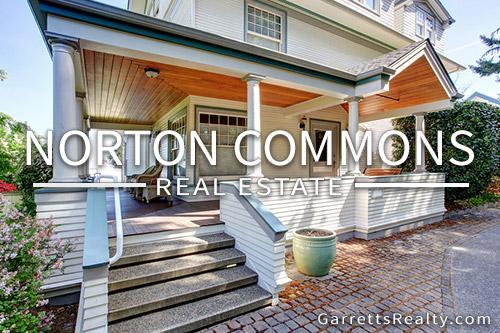 Welcome to Norton Commons! A Traditional Neighborhood Development in Kentucky that is situated on nearly 600 acres and home to more than 1000 residents and more than 50 businesses. Norton Commons homes for sale are inspired by designs that could be found in Louisville centuries ago. Some similar styles are still found in Old Louisville today. Many different sizes of homes, styles, and a range of prices. You will also find townhomes, condos, craftsman style, bungalows, and more.
Builders in Norton Commons can not wait to get started on the homes! Thinking about building in Norton Commons? Below is a list of the preferred builders in Norton Commons.
Artisan Signature Homes
Burrus Architecture & Construction, LLC
Castlebuilt Homes
Chris Carey Builders, Inc.
Gregg Custom Building
Hardy Builders, LLC
Karen Langan Construction, Inc.
Leo Thieneman & Sons Fine Homes
Mastercraft Homes, LLC
Meridian Construction
Paragon Homes
Simpson Builders, Inc
The Ramage Company
Traditional Homes
Map of Norton Commons Real Estate
Looking at the map of Norton Commons, you will see a carefully planned development. There is a unique look and feel about this neighborhood. Homes typically do not stand out more than the next, but together, they complement each other. Making it easy to fall in love with this neighborhood.
Norton Commons real estate was planned out with a vision. Houses are situated in a 'neighboring' fashion to increase the interaction between residents. Smaller lots and open front porches that sit close to the public sidewalks. Large areas of land that are strictly dedicated to community events. There are also neighborhood parks and an amphitheater that hosts free concerts.
Norton Commons: Growing and Expanding
Norton Commons is also welcoming a new open-air market to the North Village section. North Village Market will be near the lakefront amphitheater and will hold six retail cottages. Some other new amenities will be added at the Grove. A recreational area, a zero-entry lagoon-style pool, a splash park, a playground, and walking trails.
Recently approved by planning and zoning; after a long delay. Norton Commons is expanding yet again! The "traditional neighborhood development" will be adding a new section known as the Hamlet. This section will now reach Oldham County. The Hamlet will feature hiking trails, sidewalks, and bikeways that access these facilities
While Norton Commons continues to evolve and add new amenities. It's easy to see why so many love to call this neighborhood home. Just recently, they announced the addition of a new three-acre wildflower meadow and community garden. This is all part of their 160 acres of green spaces.
Lifestyle: Norton Commons
Norton Commons also supports residents looking for an active lifestyle. This one of a kind neighborhood is very bike-friendly. With sidewalk lined streets and bike racks scattered throughout the community. Bicycling is welcomed and encouraged throughout the neighborhood. There is even a fix-it station in case you have a flat or incident.