When it comes to selling your home it is important to take the time needed to get things in order. It is recommended to get a jump start on the process and get started at least 6 to 12 months before hand. That way it gives you, as a homeowner, more than enough time to get your house in order and ready for the market.
Below is an easy to follow infographic to help you get started.
---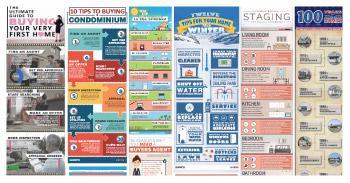 Do You Love Real Estate Infographics?
Check out some of our other top trending infographics and let us know what you think!
---
1. Paint
When entering a new home for the first time a fresh coat of paint can make a big difference to a potential home buyer. We recommend that when you are choosing colors to paint; that you decide on a neutral color. Examples:
Linen White
Driftwood Grey
Grant Beige
Also, take the time to paint the baseboards and trim around the house. Using a white satin or semigloss paint is encouraged.
2. De-clutter
Now that you have decided to get your home ready to sell it is a good idea to start packing-now! Go through personal items such as family photos, awards, trophies and anything else that you may not need in the coming months. This is a low cost tip that help get your home ready to sell. Box these items up and get them ready to move. Doing this will help prevent from any distraction to a buyer when they are previewing your home. Clean, declutter, and depersonalize! Pack away these personal items, photos, and memorabilia.
3. Windows
Usually this chore doesn't receive much attention; until now. This may be time consuming depending on how many windows you have, but cleaning both the inside and outside of your windows. This will help brighten every room. Dust and clean the blinds and window trim and window sills too.
4. Landscape
Enhance your curb appeal. Landscape: trim overgrown bushes, repair patchy grass, add mulch and more! Curb appeal is important when trying to get more money when selling your home. As a potential home-buyer approaching your house they are experiencing a first impression on your home. Take advantage of this moment by grabbing their attention-this will also help when it comes time for pictures. Present a professional online "profile" picture to the audience on the web. This is what online buyers will see as they browse the web for the many homes for sale. So take the time and money and refresh and spruce up the landscaping around the outside of the house to grab their attention.
5. Driveway
Your driveway has had a lot of traffic through the years of owning your home. Wear and tear from the Oldham County Ky four seasons and the oil stains from the old family car can make the driveway look pretty bad. It is a good idea to power wash the driveway at this time and apply a fresh coat of stain. Also if needed-clean and stain the sidewalk and entry way to the front door.
6. Kitchen
Being one of the most sought after rooms in the house, for many reasons. Buyers are looking for kitchens that apply to their needs and wishes. Clean up and declutter the kitchen counters and remove all of the stuff on the fridge! A buyer is not interested in the achievements hanging on the fridge or next weeks grocery list.
Bonus Tips:
Stage the home – set a good first impression and keep your home show-ready at all times!
Do pre-inspection repairs -before selling your home if you know it's broke go ahead and fix it first to save money later… a home inspector will find it - leaky faucets, electrical, to chipped paint on the baseboards!
Price it right from the start - If you price too high and have to lower your price, it will hurt you more than if you just price it right the first time.
Posted by Nathan Garrett on