As a longtime resident of the Louisville area, and servicing clients in real estate. One of the top questions we get from clients that are new to the area is what are the best restaurants in Louisville KY? It is no surprise why. For decades Louisville has been known as a foodie town. There are so many great restaurants to choose from! Sometimes its easier to just narrow it down to what type of food you are in the mood for, then decide where to eat. Even then it can still be hard to choose from all the great restaurants.
---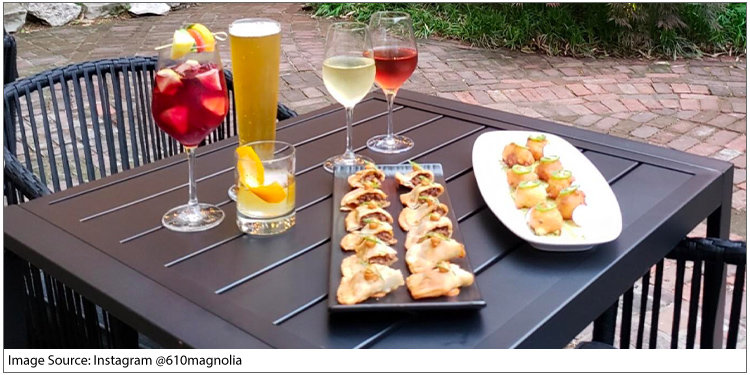 610 Magnolia
610 W Magnolia Ave, Louisville, KY 40208
$$$$ American, Vegetarian Friendly
View Menu
610 Magnolia, a contemporary yet rustic restaurant with ancient wooden beams, mullioned windows, and French doors that open seasonally to a garden patio, is situated in Old Louisville's historic district. Numerous major publications have written on the restaurant, including Bon Appetit, Food & Wine, The New York Times Magazine, Saveur, Southern Living, Esquire, Wine Enthusiast, and many others.
8UP Elevated Drinkery & Kitchen
350 W Chestnut St, Louisville, KY 40202
$$-$$$ American, Bar
View Menu
8UP is located on the rooftop of the Hilton Garden Inn Downtown. With three distinct experiences all under one roof. Take in the breathtaking views of Downtown Louisville while visiting the 8UP restaurant, the lounge, or on the rooftop. 8UP offers a variety of dining and drinking options that are created to delight the sophisticated palates and celebrate the spirit of fun that defines Louisville. Whether you're relaxing outside or enjoying the dining room. The 8UP club features a dedicated kitchen for the interior bar as well as an outside rooftop bar with fire pits and lots of seating.
Agave & Rye
426 Baxter Ave Louisville, KY 40204
$$-$$$ Mexican, American, Bar
View Menu
The "epic tacos" at Agave & Rye are so-called because of their size (double-shelled and stuffed to the brim) and unusual ingredients. For instance, The Rooster includes handmade macaroni and cheese and crispy fried chicken with Nashville hot sauce. The Sensei taco, which includes soy-and-ginger marinated kangaroo tenderloin garnished with sticky orange rum sauce, crispy rice noodles, lettuce, spicy peanut chili oil, and shaved green onions, is arguably the most unique item on the menu.
Brendon's Catch 23
505 S 4th St, Louisville, KY 40202
$$$$ American, Seafood, Vegetarian Friendly Bar
View Menu
Brendon's Catch 23, called a "Seafood Paradise," has made a name for itself as a chef-driven, top-tier dining destination. The seafood is flown in daily and cut by the chefs. Nevertheless, this restaurant provides a ton more than just its exceptional seafood menu. Hand-cut prime steaks can be equally impressive. From a 10-ounce prime to a 32-ounce prime tomahawk ribeye. Don't forget to sample one of the more than 100 Kentucky's finest bourbons, which include some of the rarest and most limited offers as well as a variety of Brendon's own blended Bourbons.
Brazeiros Authentic Brazilian Steakhouse
450 S. 4th Street Louisville KY
$$$$ Brazilian, Steakhouse
View Menu
The informal Brazilian steakhouse restaurant Brazeiros (churrascaria) offers its patrons upscale service in a fun environment. BRAZEIROS offers a contemporary rendition of Southern Brazil's centuries-old gaucho history while maintaining a genuine experience.
Bucks Restaurant
425 W Ormsby Ave, Louisville, KY
$$$$ American, Vegetarian Friendly
View Menu
The historic Mayflower building, where Buck's is housed, is in the center of Old Louisville. The ideal fine dining experience is created with a great continental menu, tastefully mismatched dinnerware, and even nightly live piano music. Great for important occasions, birthdays, and anniversaries. With more than 50 bourbon selections, Bucks is proud to be a part of the Urban Bourbon Trail.
Carrabba's Italian Grill
617 S Hurstbourne Pkwy, Louisville, KY 40222
$$-$$$ Italian, Vegetarian Friendly
View Menu
Carrabba's Italian Grill serves traditional Italian fare prepared according to the family recipes of its founders using only the finest ingredients in a bustling exhibition kitchen. In a warm, modern setting, guests may savor specialties like Chicken Bryan, Pollo Rosa Maria, Wood-Fire Grilled Steak, and traditional Italian Pasta dishes prepared on a wood-burning grill inspired by the diverse tastes of Italy.
Feast BBQ
909 E Market St #100, Louisville, KY 40206
$$-$$$ BBQ, American, Bar
View Menu
Feast BBQ perfectly fits the setting as a traditional barbecue joint. From the old brick walls to the order-at-the-counter layout. It even has a garage-style vibe, high ceilings, and exposed ductwork. On a busy Friday and Saturday nights, you can expect long lines for food, but it moves quickly and is well worth the wait! Feast BBQ is well known for their pork cakes, loaded tots and tacos. Dont forget the bourbon slushies!
Gustavo's Mexican Grill
10715 Meeting St, Prospect, KY 40059
$$-$$$ Mexican, Southwestern, Vegetarian Friendly
View Menu
Are you craving a dining experience that is genuinely unique? You will find a large variety of Mexican food to choose from Gustavos. From fajitas, to frijoles, to entertainment! Gustavos provides more than just the standard burrito and taco options. Jalapeno Margaritas, Aloha Fajitas, Three Pigs Fajitas, and other dishes are all available at this one of a kind restaurant.
Hammerheads
921 Swan St, Louisville, KY 40204
$$-$$$ American, Bar
View Menu
One of Louisville's best-kept secrets, perhaps. This little hole in the wall is a true gem. The food is consistently top-notch. There are many unique dishes on the menu. They also have a large selection of beers available on tap, so you can be sure to find something you like.
Havana Rumba
12003 Shelbyville Road Louisville, KY 40243
View Menu
This vibrant, welcoming, and perpetually busy Cuban restaurant, a true taste of Old Havana, has opened a second location in Middletown, taking over the strip mall space that was once occupied by Pig City BBQ. Havana Rumba has earned a spot on our short list of neighborhood favorites thanks to generous portions of Cuban food that are comparable to any in Key West or Miami and a bustling mojito bar.
Jack Fry's
1007 Bardstown Rd, Louisville, KY 40204
View Menu
In a location that has been a part of Louisville, Kentucky, since about 1933, Jack Fry's offers southern cuisine. Step inside for lunch, dinner, or cocktails while live jazz music soothes the senses. Formerly a gathering place for neighborhood sports fans. It's no surprise that Jack Frys has been on a number of lists for the best restaurants in Louisville, KY!
Local classics including shrimp & grits, lamb chops, and Jack's burger are prepared by the executive chef using southern delicacies and a touch of French flair. The welcoming environment and live jazz at Jack Fry's ensure that everyone will find something to love.
Jeff Ruby's Steakhouse
325 W Main St, Louisville, KY 40202
View Menu
Excellence is at the heart of The Jeff Ruby Experience. The caliber of the food, the vivacity and elegance of the setting, the flawless service, and the whole dining experience all embody this. When you eat at Jeff Rubys, they go above and above to treat you to a show that is unmatched. All of the meat at Jeff Ruby's Steakhouse is USDA prime and dry-aged. The menu's mainstay is steak, but Jeff Ruby's also offers a raw/sushi bar and seafood meals that are sure to appeal to seafood fans.
Regulars of Jeff Ruby will be happy to hear that Louisville will have a good selection of their favorite signature dishes from the Cincinnati eateries. The Louisville's cuisine is known for its bone-in filet, 7-cheese baked macaroni, creamed spinach, truffle flake, and of course Jeff Ruby's own recipe cheesecake.
Le Moo
2300 Lexington Rd, Louisville, KY 40206
View Menu
Recognized on Food Network and Thrillist as "One of the best 25 steakhouses in the U.S." The steakhouse was successfully reimagined by Le Moo. local ownership A refined yet uncomplicated experience where the atmosphere is only a backdrop for the food. Le Moo is completely glam. No jacket necessary
Lobby Bar & Grill at the Brown Hotel
335 W Broadway, Louisville, KY 40202
View Menu
At the breathtakingly gorgeous and unexpectedly unpretentious Lobby Bar of The Brown Hotel, modern classic meets Old World splendor. This elegant, gilded location is a favorite among Louisville's young partygoers because it strikes a balance between its historical significance and contemporary accents and upscale tastes. Customers can enjoy menu items from the English Grill in the convenience of the Lobby Bar, which is always attentive to the dining preferences of its clientele. Enjoy traditional comfort food while relaxing with a hand-crafted beverage. Our hand-selected bourbon flight goes great with our Smoky Mac and Cheese and Derby Pie.
Mayan Cafe
813 E Market St, Louisville, KY 40206
View Menu
Quaint, contemporary cafe serving inventive farm-to-table Mexican and Pan-Latin fare, as well as fresh juices and beverages. The Mayan Café is happy to serve food that features the key components and flavors of Mayan cuisine, like roasted meats, smoked chilies, pumpkin seeds, lime, and oil infusions. Use only meat from nearby farms and as much sustainably produced local food as is in season, including cheese.
Mojito in Havana
3939 Shelbyville Rd Suite 103, Louisville, KY 40207
View Menu
The pork is some of the best in the city and it's no surprise this restaurant is known for the Mojitos. Enjoy tasty Cuban cuisine, cool drinks, and a pleasant afternoon on the patio with live Latin music. Family owned business since 2004. Known for its extensive menu, excellent quality, and generous serving sizes. Many selections to choose from. Your choice of Pork, chicken, beef, seafood and vegetarian options are all available. All served with traditional Cuban delicacies. Mojito in Havana usees traditional Cuban recipes passed down by generations.
Mussel & Burger Bar
113 S 7th St, Louisville, KY 40202
View Menu
Mussel & Burger Bart is located in downtown Louisville and close to the River Making for a picturesque setting. Plus, it is convenient to bourbon row! The burgers are outstanding, offering a variety of alternatives and tasty flavor combinations. A delicious meal or a romantic dinner is easily attainable at this restaurant. Dark wood, leather chairs, and a stunningly renovated space and furnishings appropriate for a downtown restaurant.
Napa River Grill
1211 Herr Ln, Louisville, KY 40222
View Menu
Napa River Grill offers a taste of Northern California in Louisville's own backyard. It was inspired by the beauty and passion of California's wine area. The award-winning wine list offers only the finest wines, and the menu delivers beautifully prepared meals made with only the freshest seasonal ingredients. The pleasant lounge, located in the energetic Westport Village, leads into a light-filled dining area. The patio with the fire pit, outdoor bar, and grapevines surrounding it are perfect for outdoor dining. The informal yet classy atmosphere is ideal for any event, whether it be a date night, a casual meal with friends, or a business conference.
Porch Kitchen & Bar
280 W Jefferson St, Louisville, KY 40202
View Menu
Open for breakfast, lunch, and dinner, Porch Kitchen & Bar serves comfort food and offers a soulful experience. Gather with loved ones, friends, and coworkers for tasty Southern-inspired cuisine and artisan beverages. A relaxed but elegant atmosphere is provided by the bar and eating spaces. The Hush Puppies appetizer, Tuna Poke salad, Fried Chicken, and Grilled Salmon are highly recommended.
Proof on Main
702 W Main St, Louisville, KY 40202
View Menu
The ingredients at Proof on Main reflect the area's ethical farmers and producers, exhibiting the abundance of the Ohio River Valley in a soulful and honest manner. Proof on Main is a part of the renowned boutique hotel and restaurant group 21c Museum Hotels and is housed in five historic buildings in the heart of Louisville. The dining room is one of the most visually arresting public places in the city, and it frequently hosts exhibitions of modern art by well-known local and international artists. Not a surprise Proof on Main joins the list as one of the best restaurants in Louisville KY.
Redlands Grill by J. Alexander's
102 Oxmoor Ct, Louisville, KY 40222
View Menu
Contemporary American eatery Redlands by J. Alexander's is famous for its wood-fired fare. Numerous American favorites, such as prime rib of beef, steaks, fresh seafood, sandwiches, and entrée salads, are available on the menu. Each restaurant's menu provides a wide variety of items that change frequently, such as Seafood Czarina, Tuscan Steak, Grilled Fish with Mango Papaya Salsa, and Chicken Milanese. A full-service bar with an exceptional choice of wines by the glass and bottle is available at the restaurant.
River House Restaurant
3015 River Rd, Louisville, KY 40207
View Menu
The premier riverfront dining establishment in Louisville is River House Restaurant and Raw Bar. 330 people may be seated in the restaurant's main dining room, raw bar, and patio, which was the idea of award-winning chef and restaurateur John Varanese. When patrons enter the restaurant through the front porch garden area, they are greeted by a charming, "homelike" ambiance. A focus on fresh seafood and regional cuisine with a Southern flavor can be found on the menu, which also offers items like Maker's Mark Bourbon Barrel Smoked Salmon, BBQ Braised Beef Short Rib, and Grilled Oysters on the Half Shell. King crab, jumbo shrimp, and a variety of raw oysters are available at our 15-foot raw bar.
Sidebar at Whiskey Row
129 N 2nd St, Louisville, KY 40202
View Menu
The vibrant Whiskey Row Lofts is home to Sidebar at Whiskey Row. An historic limestone building that was first constructed in 1877. Sidebar at Whiskey Row is the obvious pick for a Bourbon, Burger, or Beer. A unique hamburger blend that is hand-crafted to give you the best-tasting treat that is often associated with the top steak houses in America. You will have a terrific time no matter the occasion thanks to its gorgeous 16-foot ceilings, tall windows, and located just beneath the 2nd street bridge.
Stoney River Steakhouse and Grill
3900 Summit Plaza Dr, Louisville, KY 40241
View Menu
An elegant steakhouse, Stoney River is another top restaurant in Louisville known for its hand-cut steaks, fresh fish options, signature salads, and house specialties. Take advantage of our boutique wine list, locally brewed draft beer, or a hand-crafted cocktail. Our goal is to serve the highest quality food in a stylish setting, delivered by seasoned servers with a feeling of genuine hospitality, whether diners are unwinding at the bar or enjoying a meal in the inviting setting.
Varanese Restaurant
2106 Frankfort Ave, Louisville, KY 40206
View Menu

In addition to filled grape leaves and fried green tomato salad, Varanese's varied menu offers other signature entrées to enjoy. Such as the seared boneless pork chop and caramelized orange salmon. Dont forget to save room for the fried banana and homemade oatmeal cookie dough ice cream. This New American-style restaurant is large enough to accommodate a decent crowd between its bar, dining area, and four seasons patio. The Varanese four-season terrace is an addition to the building, which also features a beautiful 20-foot slate water wall.


Posted by Nathan Garrett on