[Estimated read time: 6 minutes]
A lot of new home buyers ask themselves the same question.
"Do I need a real estate agent when buying a new construction home?"
Below we will highlight why hiring a real estate agent may be in your best interest when buying a new home.
But first, ask yourself this.
Is it Worth Buying New Construction?
Some homebuyers may not weigh their options to find out exactly how much more it could cost them when purchasing a brand new home compared to settling for an older home.
To put things in perspective we took a quick glance at our local real estate market. We compared homes that sold in 2016 that were less than two years old vs homes that sold in 2016 that were more than five years old. This is what we found out.
Average Price Per Sqft
| | |
| --- | --- |
| New Home: | $127 sqft |
| Older Home: | $100 sqft |
| Difference: | $27 sqft |
So what does this mean?
For an example, a 2000 sqft home could likely cost you $54,000 more! So it is important that you weigh your options and understand the potential cost and difference between a newer home compared to an older home.
Benefits of Using a Real Estate Agent When Buying a New Construction Home
Let's look at the benefits to you as a homebuyer, and why you should consider hiring a real estate agent to represent you through the process of buying a new construction home.
---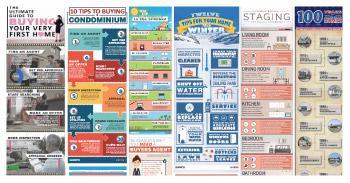 Do You Love Real Estate Infographics?
Check out some of our other top trending infographics and let us know what you think!
---
1. Find an Agent that Represents You
Before going at it alone -- you will want to find a reputable agent in your local area that is experienced with new construction that can represent you on your behalf. It's a good idea to hire an agent before you start going out and visiting these model homes. Typically the sales rep at these open houses will have you sign in and register. If your real estate agent is not present at this time, they may not be properly compensated at closing.
It is common for a buyer to look at this as an opportunity to save money by using the builder's sales representative but this is not necessarily true. The reason being is that in most instances, the cost of a Buyer's agent has already been factored into the builders marketing expense.
So keep in mind that it may very well be in your best interest to use your own representation, and not choosing the agent that already has a fiduciary responsibility to the builder or developer.
2. Getting Pre Approved
This is one of the most important steps when making the decision to buy a new construction home in Louisville. There are many different lenders to choose from and sometimes certain builder's may prefer you to be pre-approved through their lender. However, this does not necessarily mean you have to use their lender of choice.
Getting pre-approved will help verify that you are actually financially able to purchase a new home and you are ready to carry the mortgage on the property. This step will also give you more clarity on what price range you should stay within and what your monthly payment may be. If you decide on using a different lender then the builders choice, your real estate agent can help you get in touch with one of their preferred lenders if you do not have one of your own.
3. Make a Well-Informed Decision
It's hard not to fall in love with a brand new home when you are walking through the model on a weekend afternoon. Everything feels 'just right'. Your emotions are high and you fall in love with the new home. But don't move too fast, fortunately your real estate agent does not have the same emotional attachment.
Remember, the model home is likely 'decked' out with all of the upgraded features to sell you on the home, the community, and a lifestyle. Your real estate agent can help guide you to making a well-informed decision.
4. What is Standard and What is an Upgrade
This is usually where the Builder makes their highest profits. If you are previewing a model home you will want to learn more about what comes standard with the new home and what will be considered an upgrade. When adding upgrades, remember to choose your them wisely because they can add up very quickly. Is that attractive, granite countertop worth the upgrade or is that an item that can be better purchased down the road at a later date. Also, opting out of certain upgrades may be more budget friendly and may allow for you make certain customizations that will allow you to add additional square feet to the current floor plan.
5. Get Everything in Writing
When visiting a new construction model home, the sale representative may tell you that certain features come with the home. Be sure that this will be in writing before moving forward and signing any documents. The last thing you want is to find out is that some of these standard features are in fact, upgrades. Resulting in larger cost for you as a buyer.
6. Creative on Negotiations
Typically a builder that is currently in the process of developing a community does not want to discount his sale price. Why? Because doing so will be setting a market trend for the subdivision and will later on hurt the sale price of future homes in the community. Instead, try and get the builder to pay for other expenses that can be rolled into the back-end such as closing cost.
7. Research Builder and Neighborhood
What is the reputation of the Builder? What are the future plans of the developer for the neighborhood? How far along is the neighborhood to being fully completed? Also, be cautious of the current status — if the developer is at risk of losing financing, the remaining development and lots may be sold to another builder and the quality of homes more than likely will less cause a decrease in property values for current homeowners.
8. Home Inspection
Have a Home Inspection Even new homes have issues. It is surprising to some but you may want to have an independent inspection done on your new home. A good, professional home inspector may be able to identify problems that you may want the builder to address before you close.
9. HOA Restrictions
When buying a new construction home your real estate agent will be able to help you obtain a copy of the neighborhood restrictions and bylaws. Carefully read over all of the restrictions to make sure that there are no conflicts to your current living arrangements or lifestyle. If you have any questions, you can ask your real estate agent.
10. What is included in the Warranty
Does the Builder back his own warranty or is it purchased through a third party? Truly understand how the builder's warranty works and the process are in order make a claim. Some warranties are broken up into categories. One year warranty on cosmetics, two-year warranty on electric, and five or ten-year warranty on structure.
Conclusion:
Whether you're building a new home in Louisville or looking for an older home out in Oldham County. It is always a good idea for you as a homebuyer to have your own representation. Find a local real estate agent that can answer your questions and can help you achieve your real estate goals.


Posted by Nathan Garrett on