Have you just recently bought a new home? It is important as a new homeowner to keep up with the maintenance throughout the year. To make it easier, try breaking it up over the year to help.
---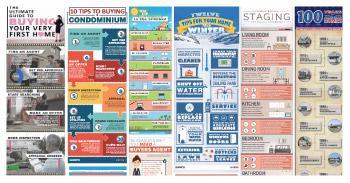 Do You Love Real Estate Infographics?
Check out some of our other top trending infographics and let us know what you think!
---
1. Keep up with the Landscaping
A great tip for homeowners that want to easily enhance the curb appeal for their Louisville KY home is by freshening up or even redoing the landscaping around the outside of their home. This will help increase the curb appeal of your home and also the value of your property. Experts even report that professional landscape designs can increase the value of your home by 5 to 10 percent. Some other quick tips to get you started...pruning the bushes and trimming the trees, put out fresh mulch and new landscape edging. Be sure to properly match the Landscaping to the Style of your Home for a better look.
2. Declutter! Don't allow your belongings to take over
Before selling your home we always recommend de-cluttering. This is a great place to start if you're ready to sell your home! If not, don't wait to de-clutter. Get started now!! There are many benefits to living in a clutter-free home. As a homeowner you will that you have fewer things to keep in order and clean, you will be more organized and it can help reduce stress. De-cluttering doesn't have to be as painful as you think. There are many different and creative ways to help get you started.
Add tall shelves to take advantage of every available space.
Mount shelves on the wall.
Get things off the floor.
Label everything.
File essentials in a fireproof box.
3. Upgrade the Bathroom
If you do not carefully plan out your bathroom upgrade you can easily pour a large amount of money into the overall renovation of your bathroom. With a structured game plan and a budget in place; an affordable bathroom upgrade can be easily accomplished and can help make any small bathroom feel bigger. Getting Started:
Organizing is one of the best ways to update your bathroom.
Try A New Vanity Cabinet.
Shower Doors and Curtains.
Bathroom Fixtures.
Paint.
4. Appliance Maintenance
It is important to perform maintenance on your home. Proper care can help increase the longevity of these products. If you are not sure about the proper maintenance that needs to be done on any of your appliances, refer to the owners manual. Refrigerator Keeping the condenser coils clean is the most important part of maintaining your refrigerator. This can be found at the back or bottom of the fridge. Sweep off the dust and dirt with a broom. Use a tablespoon of baking soda to a half quart of water to help clean the gaskets that seal the fridge. Oven Most ovens have self-cleaning cycles on them. Super simple and can be accomplished in under two hours. Or you can purchase oven cleaner from your local hardware store.
5. Update a dated kitchen
There are many different ways you can remodel your home. A newly remodeled Kitchen can easily cost you over $10,000. By freshening up your kitchen over time you can save yourself from a chaotic overhaul. In fact, after a little homework, a detailed game plan and a few free weekends, you can achieve a cost-effective kitchen upgrade. Top 5 Inexpensive Kitchen Tips:
New Counter Tops.
Resurface Kitchen Cabinets.
New Backsplash.
Swap out lighting.
Add New Hardware.
6. Paint. Paint. Paint.
A great tip for homeowners to boost the appeal of their home is by adding fresh paint throughout their home. Before you do...consider what the room is being used for. This can better help set the mood for the purpose of the room. For example, by choosing a soft, cool color and neutral color you create a quieter and calmer setting in the room.
7. Seal Driveway
Protect your driveway as you would any other investment. It is recommended that you seal your driveway every 3-4 years. This adds to an increased curb appeal when you have a freshly sealed driveway. You can find plenty of tips on how to seal your driveway. To get started you need to prep your driveway and remove all weeds and debris. Next, use an asphalt cleaner to clean up any and all oil stains on your driveway. Before you get started on sealing your driveway make sure the weather forecast is within the recommended temperatures for better results.
8. Inspect your windows
To better extend the life of your existing windows in your home, it is recommended that you clean and inspect them twice a year. While you are cleaning the inside and outside of your windows, it is a good time to also fully-inspect them. This is also a good time to re-caulk any windows if needed. This is a good time to repaint any windows if there is any paint chipping. Taking these extra steps will help when it is time to sell.
9. Add some color to the front door
Your front door says a lot about your home, after all...it is the first thing you see as you enter. An old out-dated Front Door or Garage Door may be a bad first impression when a guest visits your home. If a new door is not in the budget you can always consider repainting the door a bright or bold color to help highlight the entrance of your home. Learn more: Front Door Ideas for ideas & tips.
10. Replace and add New Blinds
By upgrading your window coverings you can make a big impact on any room. In return, you may even help boost the overall value of your home. A room with fresh window coverings always shows better than if the room had dated mini blinds. Choosing to upgrade to newer blinds...rather being real wood plantation shutters or white faux wood shutters. Either way, it is a wise investment for your home.
Posted by Nathan Garrett on