[Estimated read time: 10 minutes]
As local markets continue to rebound and improve around the US, we are starting to see more and more high-end properties come available. If you are a luxury home buyer, taking the proper steps to make it a good investment is strongly recommended and important.
Ask yourself...is now a good time?
Should I buy a Million Dollar home? Everybody's situation is different. Are you financially set to make the big purchase...do you have enough saved up to cover the down payment? Even though the requirements to get a jumbo loan are more flexible now, they still have strict guidelines in order to qualify and may require a much larger down payment.
Discover the reasons to why you are deciding to make the move. What are some of the features that you are looking for in your new home. Get familiar with the luxury homes in your area. A luxury home in your area may be a property listed anywhere from a half million dollars to a multi-million dollar property.
Key Highlights from Article
Understanding Your Local Market
Experience Representation
Finding the Right Financing
When and Where to Make the Move
Must-haves & Custom Features
Finding the Right Inspector
Picking a Good Closing Attorney
Guide to Buying Luxury Real Estate [INFOGRAPHIC]
---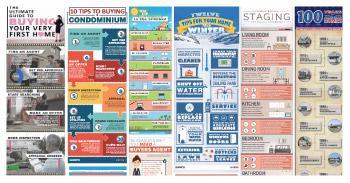 Do You Love Real Estate Infographics?
Check out some of our other top trending infographics and let us know what you think!
---
Market Conditions
Understanding the current market conditions for the local area where you are planning on buying your new luxury home is important. This could even be a great opportunity for you if you plan on selling within the next 5-10 years and you happen to make the purchase during a down market. If so, and your purchase is solely based on numbers, this could end up being a great investment!
Gaining as much knowledge about your local real estate market, find out what are the most expensive neighborhoods in your area. This can be extremely beneficial to you as a buyer. Especially, if you are in an ultra-luxury market, price tags can be much higher and you could end up overpaying for your new property.
Sometimes extravagant properties can take years to sell because of the lack of buyer competition out there looking for these high-end properties.
Are you in an ultra-luxury market in high demand? Check out some of the top luxury places to live throughout the United States:
Beverly Hill, CA
Manhattan, NY
Bel Air, Ca
San Francisco, CA
Palm Beach, FL
East Hampton, NY
Martha's Vineyard, MA\
Stamford, CT
Miami, FL
Malibu, CA
These are some of the hottest cities to live in within the United States. High-end properties in these areas may not last as long in these markets. But, if you are in a slower-luxury market, you will notice that mansions tend to stay on the market much longer than your average single family home. Sometimes twice as long. In contrast, the competition for buyers is much smaller for expensive homes in these areas.
Representation
Having the right representation from the very beginning is strongly encouraged. Form a relationship with a professional, a local luxury real estate advisor who knows the high-end communities in your area and the history behind them. A Realtor® who is familiar with the custom home builders in your area and the craftsman work that goes into their product. An outstanding representation that will assist you and have your best interest along the way and even maintain that relationship after the transaction is settled and closed.
Unparalleled Service
Finding a luxury real estate broker to provide you with an unparalleled service with the available tools and resources can be worth its weight in gold. If you have narrowed down the area you would like to move to, drive around and look at the active homes for sale in that area.
Find the most active agent or real estate company representing these exclusive properties. Chances are, this is who you want representing you. They may even know about upcoming properties that have not yet hit the market and could schedule you a private showing before the public has any knowledge of it. They may have sold a home year prior that may even be a good fit and now the current homeowner is thinking about downsizing.
Negotiating
A skillful agent will not only focus on getting you the best price on your new million dollar deal but will know the best and most important questions to ask to uncover the main motives and primary objectives of the seller. This could be added leverage down the road.
Also, depending on the state tax laws. Your advisor may be able to advise you on ways to properly conduct the contract and added concessions to possibly avoid additional cost due to you, the purchaser. Some states have dated tax laws such as 'mansion tax' that may not be as relevant to today's current and inflated cost but are still in effect.
Financing
When viewing luxury properties in your local market, sellers are very careful when allowing agents to show their home to just any buyer. Pre-approval letters are sometimes required to even view these homes. Furthermore, once you do find a property that you may want to move forward with you can expect the seller to request more than just a pre-approval letter or proof of funds with your offer.
Some sellers require a letter from an accountant or even a bank statement to show that the potential buyer is highly qualified to purchase their home and has proof of the down payment.
When financing a high-end property, lenders may want to see proof of liquid assets. Assets such as stocks, 401k's, IRA's, or any other financial investments that have cash value.
Typically luxury home mortgages are a bit more conservative on the loan to value ratio. At times you may find that jumbo-loans have higher rates and may be even harder to obtain than a conventional loan because of the higher risk for the bank in case the loan was to default.
Your Ideal Location
When is the best time for you to make the move? Are there down times during the year where you do not have as many business meeting or in the summer when the kid(s) are out of school? Determine beforehand when the best time is to make the move. When working with clients that are looking for a luxury home for sale in Louisville, we help them narrow down their search to a certain area based on their expectations and priorities.
Where are you planning on making the move to? Are looking for a mansion on the hill that is secluded and tucked away from the public eye or seeking an equestrian estate that is on acres and acres of land that features beautiful bridlepaths to ride on.
Finding the right location is important.
Whatever the lifestyle you envision should be a priority on your list of must-haves. Finding an upscale community that is located near certain attractions may be important to you as well.
Features
Attention to detail and custom upgrades are the types of features that you may find in a million dollar home in Louisville,
even some downtown condo and lofts boast some of the most desirable attributes. Certain features throughout the home can really show the quality of craftsman work that was put into a custom built home. One very popular feature that may be overlooked for some wealthy home buyers is floor to ceiling windows. Offering the highly desired natural light into your home.
Take a look at some of the other custom and added features in an extravagant property.
Kitchen Upgrades
A luxury home might offer a commercial grade kitchen with high-end appliances and even multiple dishwashers. You may also find; hidden by regular cabinet doors, a refrigerator drawer to store produce or even a warming drawer to keep your bread warm for guest.
Having a high-end kitchen that fulfills your culinary needs and that can easily entertain a guest is something that every opulence kitchen needs.
Bathroom Features
More than just a place to bathe. Lavish bathrooms offer more than your basic necessities and functionalities compared to your regular bathroom. You will find luxury bathrooms featuring a large walk-in shower with multiple shower heads or even a rain shower head.
No more cold feet
High-end bathrooms with radiant heated mats installed under your hand cut tiled floors are great when keeping your feet warm when stepping out of the shower or getting out of the bathtub.
You will notice more and more warming features in the bathroom for a more comfortable and relaxing experience. Warming features like towel warmers to keep your towel nice and warm for you when you get out of the shower. Some lavish master bathrooms even feature built-in fireplaces. Or even improve your quality of life with your very own spa features, like a high-end steam shower.
Smart Home Technology
When buying a more expensive home you may want the same features of a smart home or just some of the luxuries that the newer technologies have to offer.
When upgrading to newer, cutting-edge technology it may be difficult for it not to be present and noticeable throughout your house. Without the extra clutter of new gadgets, seek out smart home features that are designed to be hidden behind custom features or tucked away in your home.
Energy Saving Options
It may become harder and harder to heat or cool a larger home...so take control over the utility bills by upgrading to a more energy saving and customizable thermostat that learns your personal preferences and patterns over time. By making the proper adjustments, this smart thermostat can save you a lot of money over time.
Inspections
Make sure that once you do find your new luxury home, that you choose the right home inspector to comb through the property. Check for references and referrals to find the right licensed professional who has the experience with the certain features and amenities that your new luxury house offers.
Some luxury home inspectors do not work alone. With the many features that are throughout the home, it may take multiple people to visually inspect everything. This is considered taking a team approach and with the rapid pace of evolving technology, it is a good idea to have an experienced group inspect your large purchase.
A professional who has the experience and knowledge of the proper functionalities of in-ground pool, spas, fountains, and ponds. An inspector who is familiar with active lawn irrigation systems and advanced landscaped lighting or a sophisticated security and surveillance system that needs to be tested to make sure it is functioning properly.
Complete understanding and knowledge to Inspect and check other features like exterior fireplaces, automatic screen, and awning systems, central vacuum systems, heated floors and the other many features located throughout the property.
Closing Company
Every real estate deal is different and when buying or selling a multi-million dollar property you want to have the
transaction to be handled with great care and counsel.
Hidden surprises are not always welcomed on the day of the closing. When using an experienced agent that uses a transactional management system to keep track and to better organize the many tasks involved in a real estate transaction. Also, the representation of a well-prepared closing attorney will greatly help eliminate any possible errors and issues that may arise.
A good closing company will do the proper preparation and delivery of all of the documents involved. If there are any title issues or disputes, the closing attorney will try and resolve any issues that come up. It is always strongly encouraged to purchase title insurance to better protect you as a homeowner. Title Insurance not only protects the homeowner but it also protects the lender's financial interest in the property in case of any title defects, liens or any other errors that could take place. Your title attorney can thoroughly explain and or answer any other concerning questions or concerns you may have at the time of the closing.
Final Thoughts When Buying A Luxury Home
There is a lot that goes into purchasing an expensive home. The amount of high-end properties that are sold throughout the year is much lower than your average single-family home and requires special care.
When making the decision to buy luxury real estate, it is always encouraged to take your time to do your own due diligence so you can make the most logical and practical decisions along the way.
Do you have any thoughts or tips that you could share that you have encountered? Were you the professional helping a buyer or were you the homeowner? Please share your experiences.
Posted by Nathan Garrett on