---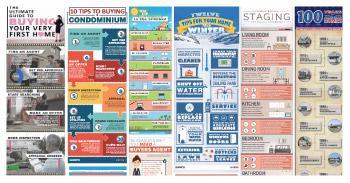 Do You Love Real Estate Infographics?
Check out some of our other top trending infographics and let us know what you think!
---
LIST OF THE TOP REAL ESTATE ARTICLES FOR BUYERS
1.) Home Buying Checklist [Infographic]
One of the most popular articles when it comes to buying a home is the Home Buying Checklist [Infographic] post written by Andrew Fortune. Andrew created an amazing infographic to go along side his post. This article has been shared more than Five thousand times. Putting it at the Top of the list!
In Andrews article, he talks about the 10 things to take care of once you have an excepted offer. A step by step checklist that will help a homebuyer forecast what's down the road of the transaction. Everything from earnest money, to property inspections, lender documents, title commitments, to appraisals. Choosing the right homeowner's insurance and obtaining a home warranty. All the way down to the final steps of closing the transaction.
2.) Buying & Selling a Home at the Same Time
When the time comes to search for Louisville real estate, it is common for homeowners to sell their current residence first. In the article, Bill Gassett discusses how to properly manage Buying and Selling a Home at the Same Time. Buying and selling a home simultaneously can be a very stressful and a time-consuming process. Bill goes over the right steps in order to sell and buy a new home. He covers how you need to spend time searching and getting familiar with the current market and narrowing down your search to a specific area before getting started. When you have a clear vision of what your real estate goals may look like as far as homebuying. Now is a good time to list your current home for sale. After receiving an offer on your home. Make an effort when negotiating the contract to push back the set closing date. This will help give you enough time to find a home to purchase.
3.) 20 Cold Hard Facts in Real Estate Home Buying
A second series article covering the 20 Cold Hard Facts in Real Estate Home Buying. Lynn Pineda talks about the facts that are brutally honest but are very helpful to potential homebuyers. Facts and tips from the very beginning of the process. Having complete transparency is very important when working with your Real Estate Agent. Lynn discusses the importance of getting pre-approved and not to make any major purchases after you sign a contract. A major purchase such as this may catch the loan approval process off track. Be sure to check out her article as she covers other topics such as lowball offers, needed repairs, and how turn-key ready homes may demand more money.
4.) 10 Red Flags to Look for When Buying a Home
The home-buying process at times can be overwhelming. In this article written by Kyle Hiscock, he discusses the Top 10 red flags to Look for When Buying a Home. Some of these red flags can be very costly when buying an Oldham County home for sale, major issues such as foundation problems and structural issues. Kyle talks about the importance of being aware of these issues ahead of time so you know what to look for when you are out previewing property. This will help prevent finding out about such problems later on during the home inspection. Other red flags can consist of insect problems, random fresh paint that may be covering up hidden defects, amateur repairs throughout the house and more. These types of red flags should be highly considered before making a decision on a certain home.
5.) 15 BS Facts About Homebuying Everyone Thinks Are True
A Fun and Bold title to Karen Highland's post; 15 BS Facts About Homebuying Everyone Thinks Are True. Karen bluntly points out homebuying facts that surprisingly may not be true. With so much information available online it is hard to tell the difference between information that may be a personal point of view and actual information that is true. A common conceived 'fact' that Karen points out is how some Sellers may think that their home is worth much more than their neighbor's house because of a certain reason or because of an online z-estimate. Be sure to check out the whole article on Karen's website to learn more about other great 'BS' facts that you may believe is true.
6.) The Ultimate Guide to Buying a Home [Infographic]
In The Ultimate Guide to Buying a Home, Ryan Fitzgerald covers all of the steps a first-time homebuyer takes through the process of the transaction. To follow along with his post, Ryan created an awesome Infographic to help visually walk you through the process. From the beginning, it is important to educate yourself on the home buying process ahead of time. Especially for first time home buyers. By not educating yourself you risk ending up in a financial mess. Ryan talks about getting familiar with the process of buying and talking to a lender to find out what steps are needed in order to buy your new home. Next, find a top local REALTOR that can help you create a game plan and also help assist you in the search of your new home. If all goes well during the negotiating of the contract and the home inspection. You are moving closer and closer to the closing table.
7.) Is Your Realtor® Trying to "Up Sell" You?
At times you hear how important it is to choose a top local Real Estate Agent. Debbie Drummond discusses how you can possibly fall into a trap if you're not careful. Is Your REALTOR Trying to 'UpSell' You? Find out how important it is from the beginning to set the budget for your new home and by letting your REALTOR know what your 'top dollar' is and not wanting to go above that number. If your REALTOR is constantly sending you homes that are more than what your budget is. Then he may be trying to up-sell you... ...have a conversation with your agent, discuss how your budget is in place. There may be a possibility that you need to reevaluate your search criteria if it is not realistic to your price range. Keep in mind what is important for you and your family in the process of searching for a new home. Setting a budget from the beginning and exploring all options is important and sticking to it will make the home buying process a more enjoyable one.
8.) Differences Between Pre-Approval & Pre-Qualification
What are the Differences Between Pre-Approval and Pre-Qualification? This can be confusing for first-time homebuyers. If you are unsure yourself, Anita Clark goes over the differences between the two in this article. A pre-qualification is only an estimate and can be easily obtained within minutes online. A pre-qualification is not official mainly because the information given to the lender has not been verified and no financial records have been reviewed. There are more strict guidelines when it comes to obtaining a pre-approval letter. The lender involved will actually pull the financial records needed and will determine if you are financially ready to buy a home. Based on your past and current information. This is important because sellers are often advised by the listing agent to strongly consider offers that are submitted with a pre-approval letter more so than offers that are not. If you are a serious buyer it is important and strongly recommended to go through the pre-approval process prior to starting the home buying process.

Posted by Nathan Garrett on