[Estimated read time: 6 minutes]
With unlimited access to new listings, valuable sold data, innovative online tools, and FAQ that can be found on Google -- the general public is now equipped with a wealth of information that they certainly deserve when making such a large purchase.
But is that enough?
Buyers can comprehensively get a good pulse on the local market but could mistakenly fumble through a transaction.
Why do I need to hire a Buyers agent?
Buying a home is a long process with many moving parts. If you're not careful - it could quickly become a disaster. The average American will move 11.7 times in their lifetime - or once every seven years. An established agent will easily sell 20+ homes - in a single year!
---
---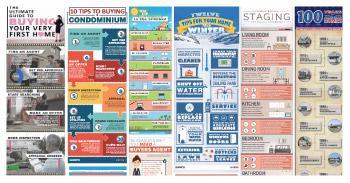 Do You Love Real Estate Infographics?
Check out some of our other top trending infographics and let us know what you think!
---
An experienced real estate agent will not only help navigate a buyer through the transaction but can also be a great advisor along the way.
Sixteen Reasons Why Hiring a Buyers Agent is a Great Choice
1. Cost of a Buyers Agent - FREE
How do buyers agent gets paid? Hiring a Buyers agents is basically free representation to the buyer. The commission is typically owed to the cooperating broker (buyers agent) that is paid by the Seller. Meaning you can hire your own representation at no additional cost. Some Buyers assume that they may get a 'better price' if they go through the listing agent. This is a large misconception. The listing agent already has a fiduciary responsibility to the Seller and this can easily create a conflict of interest.
2. Expert on the Local Market
Hiring a Buyers agent that is knowledgeable about the area can be a lifesaver. Your agent will have great knowledge about the local real estate market. This can be beneficial, not only because they know the local real estate market but because they may also know the history of homes and neighborhoods in the area. Search for a top real estate agent in your area. Ask friends and family members to try and narrow it down to a couple different agents to represent you.
3. List of Preferred Lenders
Buyer agents usually have a list of preferred lenders that they use. A valuable list of professionals that can get the job done efficiently. In result, meaning less headache for the Buyer. Your real estate agent will also advise you from the beginning to obtain a pre-approval letter. This will help prevent you from going in the wrong direction and looking at homes that not within the correct price range and outside of your budget.
4. Access to all MLS listings
Your agent has access to all of the listings available on the Louisville MLS and may possibly even know about upcoming listings in the area that haven't hit the market yet. He or she will also have the ability to schedule showings for you to preview any home in person.
5. Find Comparable Properties
Your Realtor® also has access to nearby sold properties to help determine the current market value of a subject property. Correctly finding the current market value of a home is very valuable. This will help ensure you are not overpaying for a property.
6. Research Neighborhood
Before moving forward with a certain property it is important that you are aware of any bylaws or restrictions in the neighborhood. Your Buyer's agent will research the neighborhood to discover if there is an active HOA. As a new homeowner will want to know how much the annual dues for the HOA are and also receive a copy of the restriction and bylaws for the neighborhood.
7. Negotiate Sale Price
Buyers agent are experienced when negotiating contracts for Buyers. They know what to ask for and what to include in offers while successfully navigating through the transaction.
8. Gather Appropriate Documents
After an accepted offer, the Buyers agent will gather all of the remaining documents and disclosures so the property can be placed in escrow and marked pending or under-contract on the local MLS.
9. Attend Inspections & Walk-thru's
Your Buyers agent shall also attend the home inspection and the final-walk thru. During this time, many homebuyers have questions that arise and it is important to be present during this time.
10. Write Repair Request
One of the Buyers agents duties is to negotiate repair request. Usually, during a home inspection, there is something that will come up. Sometimes it is something small and sometimes it can be something large. Your real estate agent will be able to construct a well-addressed repair request for the seller.
11. Importance of a Survey
Having a survey is always something a new homeowner definitely may want to consider. What are your plans after moving in? Are you planning on installing a fence around the property? Putting in a pool, building a barn, or detached garage? Then having a survey done may be something to strongly consider when buying a property.
12. Constant Communication
During the home buying process, buyers have questions throughout the transaction. Being a designated Buyers agent your client's expectations should be nothing short of being responsive and in constant communication or at least weekly updates.

13. Meet Contractual Deadlines

Real Estate contracts have many deadlines. It's important to adhere to these deadlines or it can cost you the ability to request repairs. Leaving you to have to ask for extensions, which may or may not be granted. Or even cause delayed possession.

14. Emotionally Detached Advisor

A Buyers agent is not emotionally attached to the home or should not be financially dependent on the closing of the home and should have their clients best interest.

15. Request Invoices and Warranties

One duty a buyers agent will do just before the closing of a home is to make sure the new homeowner has copies of invoices for any repairs that have been completed from the home inspection and if there are any active warranties that may convey to the new homeowner.

16. Communicate with Closing & Title Company

One of the things a Buyers agents does is communicates with the closing company to make sure they have the required documents in a timely fashion for the upcoming scheduled closing.

Conclusion on using a Buyers Agent

Over the years, more and more homebuyers have sought out their own representation when buying a home. A buyers agent is a very valuable advisor that can help you throughout a successful transaction. The reasons mentioned above is only a short list of the duties a buyers agent does when serving their clients.

Posted by Nathan Garrett on