[Estimated read time: 6 minutes]
As a homeowner, the fall season is a great time to winterize your home. Preparing your home before the colder temperatures get here will help when going through your winter home maintenance checklist. To help, we created a Gifographic highlighting the tips that can help you this winter.
Embed This Image On Your Site (copy code below):

---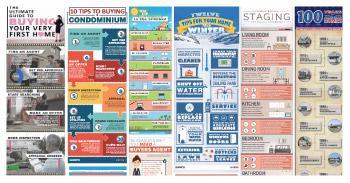 Do You Love Real Estate Infographics?
Check out some of our other top trending infographics and let us know what you think!
---
Let's further look into the winter home maintenance checklist. Below we break down the tips that can help you keep your home safe and also tips to help you save money this winter.
Inspect & Clean Chimney
Before starting your first fire this season, it is important that you have a CSIA Certified Chimney Sweep come out and clean and inspect your chimney before you use it.
Chimney fires are dangerous and can happen without the homeowner even knowing it. Creosote buildup on the chimney walls can ignite over time. It is important that you take the proper winter home maintenance precautions to prevent any buildup inside the chimney.
Upgrade to a Programmable Thermostat
As a homeowner, one way to really help cut back on energy cost this winter is by upgrading to a programmable thermostat. Set your thermostat at a lower temperature and leave it.
If you usually set it at around 74 degrees, try setting your thermostat to 68-70 degrees. During the hours you are away from the home, have the programmable thermostat set at a lower temperature. Reducing your overall average temperature in your home can dramatically impact your monthly energy use if done correctly.
Turn Off Exterior Water Spigot
Now that it's getting colder, chances are you won't be watering the garden or washing your car on the weekend. An important winterize tip for your home is to disconnect the water hose from the outside spigot. If you have a shut-off valve for the outside faucet, turn off the water that leads to the exterior spigot. Some homeowners even use insulated covers for the outside that attach to the spigot which can act as added insulation.
Reverse the Direction of Ceiling Fans
One commonly overlooked winter home maintenance tip is changing the direction of your ceiling fan spins. This will help improve the airflow in certain rooms in your home. Especially in rooms with high or vaulted ceilings.
Temperatures towards the top of a ceiling, depending on the height, can be 10 to 15 degrees warmer than at floor level. Having the ceiling fan set at a low setting and in the proper direction can better help circulate the air flow in the room.
Service Your Heating System
This may be one of the most important tasks to be completed when winterizing your home. It is recommended year after year to have a professional come out and inspect and service your furnace to ensure it is performing at its highest efficiency and that are no safety concerns with the unit.
Check & Replace all Smoke Alarms
To help protect you and your family this winter be sure to check all of your Carbon Monoxide and Smoke Alarms. December through March is peak time for house fires.
The leading cause of house fires this time of year is caused by portable and fixed space heaters. You should check your smoke alarm once a month and change the batteries twice a year. A good time to do this is during a time change (daylight savings).
Adequate Insulation
Do you have a lot of heat escaping because of poor insulation in your attic? One easy way to tell is by simply looking at your roof after a snowfall. If all of the neighbors still have snow on their roofs throughout the day and yours has already melted. Chances are, you have poor insulation.
Improve Water Heater Efficiency

Do you have an older hot water heater? Chances are if you do, it has poor insulation. If your hot water heater is located in a cool area such as a cellar, you may want to consider investing in a blanket that is specially made to help insulate the tank of the water heater. Even consider insulating the hot water pipes as well to keep them warm when in use.
After making the adjustments mentioned above, you can now easily adjust the temperature on the water heater to a lower setting. You may not even notice the change in temperature.
Prepare Windows & Doors

When getting your house ready for winter in Louisville, one way to make an impact on reducing energy cost is through your windows. Go through and check the weather stripping on all of your windows and doors to make sure that there is an airtight seal to prevent drafts coming through during colder temperatures.
Now may also be a good time to re-caulk the areas around the outside of any doors or windows to also cut back from any drafts or water that may find its way into the home.
Consider having your windows re-glaze or if your budget allows it, you may even want to consider replacing them with highly efficient, double hung windows.
One quick and cost-effective way homeowners are seeing results are from the DIY insulation kits that you can find at most box store. These insulation kits typically cost less than $20.
Exterior Tips for Winterizing your home

Another tip for your home this winter is to open the cabinet doors below any sinks and turn on the hot and cold water so it slowly drips. This is important to do if temperatures drop to extreme lows in your area. Especially throughout the night while you are asleep and the faucets go unused for a longer period of time.
Gutters
This is a task that should always be done in the fall. Especially after most of the leaves have already fallen. By neglecting to clean your gutters before winter you run the risk of ice dams forming in your gutters. This can cause problems not only because of the weight from the ice and possibly pulling the gutter away from the home. Water can also find its way into the home behind the exterior walls if ice dams begin to build up.
Enrich Your Lawn
Instead of raking up all those leaves consider using your lawnmower this fall to mulch the leaves in certain areas of the yard. Doing so will help enrich the soil from the leaves decomposing over the winter months.
Winterize Lawn Equipment
Every year it is a good idea to get your lawn equipment ready for the winter months by winterizing them to prevent from additional wear on the engine.
Final thoughts on Winter Home Maintenance
From energy-saving tips to preventive winter home maintenance and proper precautions to keep your family safe. These are the actionable task that you can take as a homeowner this winter to help you get through the colder temperatures.
If you enjoy the gifographic or have any tips to add, please comment below!

Posted by Nathan Garrett on