[Estimated read time: 4 minutes]
Not all firewood is created equally! Find what firewood is best for your home.
Cold weather is officially here and it looks like it will be sticking around for a while! This is the time of year when people enjoy staying inside and relaxing next to a warm fire. Before stocking up on firewood and lighting that fire - let's look at some of the best firewood for your home!
---
---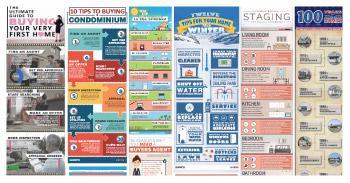 Do You Love Real Estate Infographics?
Check out some of our other top trending infographics and let us know what you think!
---
Choosing the Best Firewood
The drier the firewood the better! Fresh cut wood, also known as "green wood" is not ideal. Unseasoned firewood smokes a lot more and is also a leading cause to creosote buildup - which can lead to chimney fires.
Different types of Firewood
Not all firewood is created equally. Understand what you are looking for when stocking up on firewood. Below is a list of the different types of firewood and the different benefits of each one.
Apple: Not only does Apple wood have a great aroma but it also burns slow. Meaning less wood to keep the fire going! Typically found in most areas across the U.S.
Ash: Burns great and steady. Ash wood is known to split easy and tends to season fast. Also found in most areas in the U.S. and highly recommended as great firewood.
Birch: Burns very hot and quickly! Birch firewood is typically best used as fire starter because how fast it burns. Typically found in most midwestern states of the U.S.
Cherry: If seasoned properly, Cherry firewood will burn slow and put off a great smell. Compared to other different types of firewood, Cherrywood tends to spark more but tends to smoke little. Found in most areas around the U.S.
Hawthorn: A dense hardwood that burns slow and puts off a lot of heat. Hawthorne can typically be found in the Southeastern states.
Maple: Dense wood that is great for a fire that you're wanting to burn slow and hot. Maple firewood is also recommended as a great firewood. Typically burns best when it is seasoned for at least one year.
Oak: Considered one of the best firewood's. Oak burns slow and even but also burns hotter than most. This type of wood is also found in most parts of the U.S.
Walnut: Easy to burn and has a good aroma. Walnut is a hardwood that is dense and burns slow. Another advantage is it puts off great heat with not much smoke. Typically found in the Southeastern states.
Safety and Maintenance Tips for your Fireplace
Have your chimney and fireplace cleaned and inspected by a CSIA Certified Chimney Sweep professional.
Known as one of the most important winter tips for your home. Check all Smoke Alarms in the house. December through March is peak time for house fires. It is a good idea to check your smoke alarm once a month and change the batteries at least twice a year.
Choose firewood that is seasoned. This type of wood burns the best! You can likely tell the difference because seasoned wood is also lighter in weight and also has a grayish color.
Before starting your first fire, have a small 'test burn'. Having a small fire first will help you test to make sure the smoke ventilates through chimney properly.
Keep a non-flammable rug in front of the fireplace to protect carpet and flooring from any sparks from the fire.
Consider leaving an inch of ash in the bottoms that can act as insulation for fires. Also, remember to clean the firebox at least once a week during peak seasons.



Conclusion: Woodburning Fireplaces

The popularity of wood burning fireplaces seems to be on the decline because they are may not be as energy efficient as some gas burning fireplaces. However, it is hard to replace the experience and ambiance of having a wood burning fire on a cold winter night.


Posted by Nathan Garrett on