Purchasing a home is one of the largest decisions we can make in our lifetime. While it's certainly an exciting experience, it can quickly feel a bit daunting if you haven't done your homework before you set out on your house-hunting expedition. You've probably imagined your dream home numerous times before, size, rooms, the size of the room! Maybe you're even so detailed that you've thought of what type of backsplash you'd like in your future kitchen. While all of those are important details to consider when beginning your home buying journey, we've compiled a list of the most important items that should go on anyone's house hunting wishlist.
A helpful checklist to use when out viewing homes.
Embed This Image On Your Site (copy code below):

---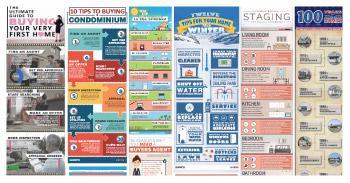 Do You Love Real Estate Infographics?
Check out some of our other top trending infographics and let us know what you think!
---
What to Expect When House Hunting
There's an old saying that it's better to buy the worst home in the best neighborhood than the best home in the worst neighborhood. Although a bit of a cliché, it's certainly true! After all, you're looking for the home that you may just spend the rest of your life in. When you consider the location, think about its proximity to the things you deem as most essential, whether those be schools, your job, restaurants, the hospital, etc. Do homes on your list check the location box? If not, it may not matter how nice the house ends up being, it might never be able to fit your needs.
The Property and Landscaping
Having a nice yard is important to some people while it's a minor detail to others. Consider what your ideal situation looks like in regard to lawn maintenance and upkeep and be realistic with yourself! If you know you're not going to either have the time to mow the lawn or trim the hedges, or you simply have no interest in doing this, you better have access to someone who will do these things for you or pass on the house altogether. Is a front yard important or is a back yard important? If you could only have one, which would you choose? Consider how close you are to the road as well and if there is a double yellow line in close proximity to where your property ends as you may not want to deal with constant traffic near your home. Also consider the view others have of your house, their sightlines, and your sightlines. No one wants to move into a house only to find their neighbors have a front-row seat to your bedroom window.
Neighborhood and Location
Like we mentioned above, consider purchasing a smaller house in a great neighborhood over a huge house in a lesser neighborhood. Deeply consider the area that your home is going to be in. When you're creating a list of prospective houses, feel free to drive around the neighborhoods they sit within and get a sense of what type of traffic goes through the area. Try to see the neighborhood at different times of the day and points in the week to weigh weekday activity versus weekend activity. Is an HOA that governs many aspects of how you'll need to maintain your house? If there isn't, what do your potential neighbors' houses look like? What do their yards look like? These are all small details that you won't want to forget to get the answers to before signing any contracts.
Having the Perfect Layout
The size of the home and its floor plan are probably the first thing you considered when you started to move towards the house-hunting phase of your journey. It's easy to allow your lofty desires to outpace your very real finances, though. Things to consider are how much extra space you really need, and how much you actually need it. Consider how much higher the heating and cooling bills will be in a larger house or how much greater your property tax will be. Remember that you're not just buying a house for right now, but for five, ten, maybe even fifty years down the line.
The Kitchen
It's no secret that the kitchen is where we congregate. When families have get-togethers, celebrate the holidays, or friends are invited, think about where you typically wind up. Most of that hang-out time is probably spent in the kitchen, which is why they are regarded as the heart of the home. Think more about the size and layout of the kitchen and less on the physical appearance. You can always change the appliances, backsplashes, and add or subtract an island, but consider the costs, too, as extensive kitchen remodels can add up quickly.
Essential Storage Space
It's easy to be wowed by a home's open floor plan or overall layout. Maybe the bedrooms, kitchen, and living room check off every single box in what you're looking for. But imagine moving into that seemingly perfect home and realizing that you've overlooked one of the most underrated yet important features of the home: its closets and storage space. Nothing would be worse than needing a place to stash your out-of-season wardrobe or holiday decorations and having absolutely nowhere to put them. Maybe you're willing to make that sacrifice if you come across a home that checks all of your boxes because you feel you can use an extra bedroom or office for storage, and that's just fine. But be ready to make those types of sacrifices if you don't place a premium on your closet and storage space. It's underrated and underappreciated, but it will never be underutilized.
Natural Light is a Plus!
Windows and lighting are so important in turning a house into the home you've always wanted. Consider the number and positioning of windows. If the home doesn't have a lot of natural light, are there inexpensive ways to create pathways for light to get into the home? What type of fixtures is in the house? Are there ceiling fans or simple fixtures? Depending on your wants and needs, it may not make much of a difference to you, but you need to think about how much you value privacy versus having a bright, vibrant living space that provides great views of the outdoors and surrounding properties. If the home doesn't have the current natural or installed lighting that you seek, would it be possible and reasonable to alter the home? It is important to consider what you value most in this area before you wind up in a home that clashes with your wants and needs.
Buyers House Hunting Checklist
When it comes down to it, finding the perfect house can be quite the process. While the perfect home for you is absolutely possible, it might not be available right away or may simply take a bit of an imagination to uncover. The most important thing that can be done is prepare yourself as best as you can in figuring out what the most important aspects of your home. Don't feel like you must compromise, either. Remember that this is a long-term investment and is one of the most important things you will do in life, so taking your time is the ideal thing to do. It's easy to grow a bit impatient throughout the process but having a concrete game plan and a checklist to aid you in the house-hunting process will make it all much more manageable and enjoyable.

Posted by Nathan Garrett on