Determining how much house you can afford can be tricky!
Many different things factor into the equation. Some of the most obvious are things like your income, how much of a down payment you'll need, your debt to income ratio, and of course your credit score. Below we cover a long list that highlights some of the other factors that help determine how much home you may be able to purchase. This can especially be helpful to first-time homebuyers who might be unsure what their budget may be.
---
---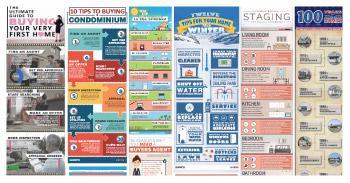 Do You Love Real Estate Infographics?
Check out some of our other top trending infographics and let us know what you think!
---
How much home can I qualify for?
Looking further into the most important factors when it comes to how much house can you afford. Some people begin there search online maybe months, if not years in advance. So these numbers, of course, will fluctuate and change as you get closer to buy.
Annual Income: One thing lenders will need from you is your most recent tax returns. This will help them see on paper how much your annual income is. This is one of the most important factors when buying a home. Calculating how much you can afford drastically depends on your total household income.
Monthly Debts: How much debt do you have? Things like car payments, credit cards, and student loans are just a few examples. The amount of total debt you have can most likely affect what you can afford. You have most likely heard of the 28/36 rule. Keep your mortgage below 28% of your gross monthly income and your total debt below 36%.
Down Payment: How much do you have to put down? One of the most common home Buying myths that keep people from buying their first home is that they have 20% saved up to out down on a home. Some loans require for you to put down as little as 3.5% down. While some other loans require for you to put down 10% to 20% down.
Debt-to-Income Ratio: As mentioned earlier, your debt to income ratio should be no higher than 36% to qualify for a home loan. Of course the lower the number the better and more affordable. As a general rule of thumb is that your mortgage should only be 28% of your gross income and your total debt should be less than 36%.
Interest Rate: Depending on where the current interest rates are right now, it can affect what your projected monthly mortgage payment will be. This will also affect what price point you will be in so you can adjust your search criteria accordingly. A lender will be able to look at this number and let you know how much house you can afford.
Loan Term: How long will you hold the loan for? The most common mortgage is usually a 30-year loan. Some people, however, opt to only have a 20 year or even a 15-year mortgage so they pay off the loan sooner. Especially during times when interest rates or at an all-time low or if they are down-sizing or even buying a home well below their budget.
Credit Score: When buying a home many lenders require your credit score to be around 620 to 640.
Property Tax: The amount you pay for property taxes can drastically change depending on where you live. The state with the highest property tax rate in the US is New Jersey at 2.40% compared to Hawaii where the property taxes are only 0.27%.
Home Insurance: If you already have auto insurance, you can contact your insurance agent to see how much your premium would be on average.
---
Affordability: Mortgage Calculator
Payment Calculator
Posted by Nathan Garrett on