[Estimated read time: 5 minutes]
Typically the real estate market will see a slight dip in the colder months. However, homeowners can still experience success when selling their home in the winter.
So how can you achieve your real estate goals this winter?
As for Sellers, you can take advantage of the winter months by following some of the tips below and making sure your home stands out from the competition. Increase your sale price as if you were selling your home in the spring!
---
---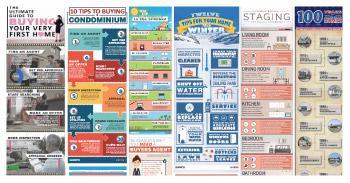 Do You Love Real Estate Infographics?
Feel free to check out some of our other top trending infographics and let us know what you think!
---
Tips to Selling Your Home in the Winter
Here in our local area, we always see a slow downturn for Louisville real estate in the winter. As a homeowner, you want to take the extra steps to prepare your home so it stands out from the competition. Let's take a look at the helpful tips below.
1. Highlight Seasonal Photos
Thinking about selling your house this winter? Chances are you may have known for months in advance - if that is the case, consider taking exterior photos early to keep on file to showcase the exterior of the property with the grass, trees, and landscaping in full bloom. However, you don't want to necessarily use these pictures as your main photos that you highlight online because a buyer may see the out of season images and think that the home has been on the market for months. Consider using the pictures towards the end, or even leave a photo album on the kitchen table with additional information about the property.
2. Limit Holiday Decoration
When selling your home -- life doesn't stop. Holidays will come and typically homeowners will want to decorate accordingly. However, some homeowners tend to decorate a little more than others. If you believe that you may fall into that category, consider toning it down this year. Consider saving it for next year at the new home.
You want to hold back on any distractions from the home. By lightly decorating you can still make your home inviting for the holiday-themed showings but not cause a distraction to what your house has to offer.
3. Turn up the Heat
Depending on what region you are in the temperatures may start to get pretty cold. When you get that notification of an upcoming showing, consider turning the heat up just a little so it is nice and warm for guest coming in from the bitter temperatures. Also, remember to reverse the direction that your fan spins to help circulate the warmer air that may be higher in rooms with vaulted ceilings. This can also help you save on energy cost during the colder months.
4. Keep Walk Ways Clear
As we move into the colder months and unfortunately for some, we'll start to see reports of snow. If you have your home on the market, it is important to keep safety in mind. Especially if there are any inclined walkways or steps. Always make sure they are clear of all snow and ice so nobody unexpectedly slips and falls. Shoveling your driveway is a good idea as well and will also make it look nicer.
MUST SEE: Winter tips for Your Home INFOGRAPHIC
5. Daylight Savings- Add More Light
Now that the clocks are rolled back it's getting darker earlier. Oftentimes buyers will schedule showings after normal work hours. Causing for a later, and darker showing. Sometimes showings may be when the sun is going down or even in some instances when it's already dark! Consider adding brighter bulbs throughout the home to brighten up living areas and bedrooms. Also, make sure that if you have any burnt out light bulbs that you replace them as well.
6. The Smell of Winter
Set the mood. Many people enjoy the certain aromas that come along with fall and winter months. Consider using some of these winter scents to help make your house more inviting. Such as cinnamon scented pine cones, fresh sage wreath, fresh cut pine, gingerbread and more. Just remember not to overdo it. You don't want it to seems as if you are trying to cover up something. Also, look online for additional tips to selling your home in the winter.
7. Get Rid of the Leaves!
Depending on the weather, if you are towards the end of the fall season or even into the winter months. Clean up the yard and walkways. Rake up all the leaves or shovel the snow from the driveway and walkways.
Having a layer of leaves blanketed across your lawn does not look good. Also, when people are viewing your property and walking around the outside of the home they may track in leaves into the home.
8. Serious Buyers in the Winter
During the spring and summer months, you may get buyers coming through your house that are not necessarily serious. Especially during an open house. Some first time home buyers just want to see what's on the market because they're thinking about moving in a year or so. However, during the winter months, if a buyer is out looking at homes. They are very serious buyers.
9. Less Competition
Just as there are less active buyers during the winter, there is also less number of sellers as well. Which can be great news for people who have to sell because that means there is also less competition. However, as a homeowner you still want your home to stand out Spend the extra time and energy to make sure your home is ready to show.
10. Price Accordingly
Statistically, the median sale price is always high in the summer months because of higher demand. Carefully price your home accordingly. Pricing a home to high is always a mistake. Homeowners tend to want to price their home higher to allow wiggle room. This can be a huge mistake and leave the home on the market for too long and end up going stale.
Conclusion
Selling your home during the winter months can bring on challenges. Planning ahead and taking extra steps to prepare for the real estate market can help you achieve your real estate goal. Do you have any tips to share on how to get your home ready to sell during the colder months? Please share below.


Posted by Nathan Garrett on