[Estimated read time: 8 minutes]
We can all agree that a lot goes into the process of selling a home.
From start to finish it could easily take four to six months!
In order for a homeowner to truly maximize their profits, there is a lot of time and energy that is also required from the seller. Some sellers may wonder...what does a REALTOR® do to sell a home?
We decided to dig deep into the question and uncover some of the tasks that may be involved when it comes to selling your home and what your local Louisville real estate agent will do throughout the real estate transaction.
Add this Inforgraphic to your Site. (copy code below):

---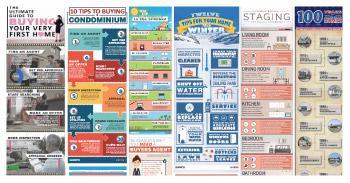 Do You Love Real Estate Infographics?
Check out some of our other top trending infographics and let us know what you think!
---
What Does a REALTOR® Do When Selling a Home
Here is the complete breakdown of the many different jobs a real estate agent will take on when selling your home.
1. Schedule Appointment
When a seller decides to hire a REALTOR® to sell their home a local real estate agent will schedule a time to meet with all of the decision makers who will be involved. It is important that all are present during this first initial appointment.
2. Pre-Listing Appointment
Your first appointment may be referred to as a 'pre-listing appointment'. This is when your local real estate agent will come out and do a walkthrough of the property and take notes about any upgrades or issues that may need to be addressed in order for you to get your home ready to sell.
As a homeowner, this could be a good time to point out any issues or ask any questions about getting the home ready.
3. Research Comparable Sold Properties
A market research will be conducted following the appointment by using the data available in local MLS. The main focus is to find nearby comparable's (like kind properties) that have sold within the last six to twelve months.
4. Research Comparable Days on Market
Your REALTOR® will determine what the average DOM (days on market) should be for the home by using data from past sold properties by using the same search parameters that were used above.
5. Local PVA Data
Research and verify information available on the local PVA website to ensure proper recording and data information. This data could reflect on the price of the home.
6. Draft CMA Report
An agent will prepare and finish a CMA report for a follow-up listing appointment and discuss the research that was found and what you should expect as a seller in the current market.
7. Pricing Strategy
What is good pricing strategy? Discuss your goals and expectations in order to sell your home for more money and in the least amount of time!
8. Marketing Strategy
A REALTOR® will discuss their plans and marketing strategies that they use in order to produce results for their clients when selling their home.
9. Online Marketing Strategy
It is important to have a well planned out marketing strategy that is strictly online focused. Properly utilizing social media advertising is a must and can make an impact when selling your home.
10. Screening Buyers
Learn about the importance of qualifying buyers and how showing agents have their buyer's pre-approved before showing them property. This is an important practice that benefits the Seller because it prevents unqualified buyers from wondering through your home.
11. Agency Relationships
Understand the different in agency relationships and how they work. Some states allow dual agency relationships.
12. Current Mortgage
What is the current mortgage and pay off on the home. This is important and will help you understand what your net profit is.
13. HOA Information
Verify any Homeowners Association information and copies of restrictions and bylaws and also gather any contact information available.
14. HOA Annual Fees
Verify the Homeowners Association annual fees and where they will be paid or the address that they will need to be mailed to.
15. Local Utilities
Discover all of the available utility companies in the area and their contact information.
16. Average Electric Bill
Find out what the average monthly utility bill is for the last 12 months. This is a very common question for interested buyers and is good information to have readily available for showing agents.
17. Recent Upgrades
Verify all of the property's amenities and any recent upgrades. If there has been any recent upgrades-are there any warranties that are conveyed to the new homeowner?
18. Home Warranty
Go over the importance of offering a one-year home warranty for Buyers. Some home warranty companies even offer a Seller's coverage during the time of the listing until it closes.
19. Seller Disclosure
Your REALTOR® will help get you started on filling out the Seller Disclosure form. The Seller Disclosure form is a report that helps uncover any defects or issues with the home.
20. Listing Contract
At this time your real estate agent will have you review and sign the listing documents and disclosures.
21. Seller Copies
You will receive copies of all listing documents for your records (or complete access to the documents on a transaction management software).
22. Additional Information
Obtain any additional documents about the house that you think could be helpful to a Buyer or showing agent.
23. Property Size
Your real estate agent will measure the house to verify the square footage or may use the data available on the local PVA website.
24. Room Measurements
Individual room measurements will be recorded and will submitted with the listing.
25. Copies of Key
Make a copy of the key that will be used for the front door and will be stored safely in the electronic Lock Box.
---
⇩ Add to the List-Comment Below ⇩
---
26. Professional Staging
Schedule or discuss any proper staging recommendations that may be needed to help showcase the home.
27. Professional Photography
A professional photographer and videographer will be scheduled to come out and take pictures of the home to showcase it in the best light.
28. MLS Data
All data and information will be verified and entered into the MLS for the home.
29. Showing Instructions
Discuss and prepare showing instructions for buyers and showing agents.
30. Financing Available
Another thing a real estate agent will do for you is find out if there is any financing that is not available for the property. For example, some condominiums are not FHA approved.
31. Checklist
Review listing checklist and proofread and correct any errors before turning in the listing.
32. Listing is Ready to go Live!
At this time the home will be turned in and uploaded to the local MLS and added to the list of homes for sale in Louisville, KY.
33. For Sale Sign
Now is the time for the yard sign to be placed in front of the home. Directionals may be put out at any nearby intersections as well if needed.
34. Property Flyers
At this time flyers for the new listing will be designed and printed out to and will be added to the 'more info' box on the for sale sign.
35. Lock Box
An electronic lockbox will be installed on the front door of the home with a copy of the key to inside.
36. Double Check Accuracy
Your real estate agent will proofread and double check the live MLS listing to verify all information is correct.
37. Just Listed
Just Listed flyers and/or postcards will be delivered and mailed out to the neighborhood.
38. Social Media Ad
A targeted Social Media ad will be ran to highlight the new listing in hopes of attracting any interested buyers.
39. Showings
Accommodate and coordinate showings with any buyers and/or buyers agents so the home is easy to show.
40. Feedback
Send email to showing agents to request feedback on their recent showing.
41. Share Feedback
Discuss feedback to determine if a different approach is needed to get the property sold.
42. Weekly Updates
Touch base with seller weekly to discuss marketing and pricing adjustments that may need to be put into place.
43. Open Houses
Depending on the property and it's location, an open house may need to be scheduled for the upcoming weekend.
44. Incoming Offers
Evaluate and deliver any and all offers to the seller.
45. Present Offers
Your REALTOR® will present and any and all offers and will explain all terms and conditions that are mentioned in the offer.
46. Negotiate Offers
Negotiate all offers on behalf of the seller and work towards getting an accepted offer.
47. Counteroffers
Submit any counteroffers back to Buyer's agent with a set deadline.
48. Pre Approval
Obtain a copy of the buyer's pre-approval letter and verify the approval with the lender that is involved.
49. Good Faith Check
Request and receive a copy of the good faith check and deposit it into your office's Escrow Account.
50. Pending Listing
At this time the contract will be turned in and the listing will be updated as 'Sale Pending' in the Local MLS.
51. Home Inspection
Accommodate for the scheduling of the buyers Home Inspection.
52. Repair Request
The repair request will be delivered from the buyer's agent and you will have a short time frame to review and respond.
53. Negotiate Repair Request
Repair request will be addressed and negotiated on behalf of the seller.
54. Licensed Contractors
Your real estate agent will assist you with any contacts of licensed professionals and scheduling for the repairs that are needed.
55. Appraisal
Make sure the Appraisal has been ordered at this time to keep the closing on track.
56. Meet Appraiser
Provide a packet at the home for the Appraiser. Including past comparable sold's that may be helpful to validate the proper sale price of the property.
57. Appraisal Report
Deliver under appraised report to the seller and come to a resolution if needed.
58. Contact Lender
Your real estate agent will contact and follow up with buyers lender to ensure the clients processing of the loan is a priority to prevent any delays.
59. Closing Scheduling
Coordinate closing between both Seller's agent and Buyer's agent.
60. Closing Attorney
Follow up with closing attorney to verify that all documents have been received.
61. Title Issues?
Resolve any title issues that may arise just before the closing.
62. Walk Through
Accommodate for Buyer's final walkthrough of the property.
63. Closing Documents
Carefully review closing figures for complete accuracy.
64. Closing
Your REALTOR® will attend the closing with you on your behalf and is available if any issues may arise.
65. SOLD
Congratulations on the closing!
---
Conclusion: What does a Listing Agent do?
If you are thinking about selling your home in Louisville, it is a good idea to get familiar with the local real estate market and find out what is currently going on. Learning that you are in a strong seller's market can help validate your decision on selling your house.
One way to get a good pulse on the local real estate market is to talk to a local Realtor®. They research the data on a daily basis and can notice any trends that are happening in your local area.
Are you a Real Estate Agent? Let's Add to the List!!
⇩ Comment Below ⇩
Posted by Nathan Garrett on