[Estimated read time: 6 minutes]
Must Read: Easy to follow house hunting tips and tricks for homebuyers.
Every day there are countless homebuyers actively scouring neighborhoods looking for a new home. Often only noticing the homes general layout and appeal.
And possibly overlooking costly repairs that the home may need.
This is easy to follow guide will help point out what to look for when viewing a house.
---
---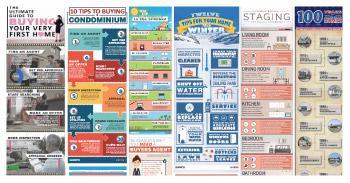 Do You Love Real Estate Infographics?
Check out some of our other top trending infographics and let us know what you think!
---
When working with Buyers and viewing houses here in Louisville, KY and homes in Oldham County, KY - we always try to be observant of the less obvious things that can be easily missed when house hunting.
Of course, most of these things will be seen and recorded by the home inspector but pointing it out early leaves less room for disappointment and surprise.
House Hunting Checklist: What are you overlooking?
Let's take a quick look at some of the things that you may want to check when house hunting.
Looking at the Roof
One of the largest expenses for a homeowner is the cost of a new roof. Most of the time you can easily notice if it is an older roof or if there is an excessive amount of granule loss.
Also look to see if there is more than one layer of shingles on the roof. Two layers or three layers of shingles is a lot of extra weight. Especially during the winter months when the roof may be covered with a few inches of snow.
Another thing to look for is signs of missing or curling shingles and even nail pops. This may be harder to see from the ground but depending on the home, you may be able to observe some imperfections or issues.
Condition of Chimney
If the home has a brick chimney you may also want to look to see what the current condition is. Does the mortar and brick seem to be deteriorating? Check to if you notice any cracks or leaning and if it is missing a proper chimney cap.
Ventilation and Insulation
One important thing to look for when house hunting is to make sure that there is proper ventilation for the attic.
This can easily be done from the ground. Most roofs should have plenty of vents. Look for ridge vents, soffit vents, gable vents and any other ventilation. A well-ventilated home will have the proper soffit vents in place to help 'cooler' air come in from the bottom and pushing the warmer air out the top at the ridge vent and/or multiple roof vents. Gable vents also work well for cross ventilation.
If you notice these vents on the roof when out looking at homes, you can expect the attic has good ventilation which can drastically improve energy cost through the year also and prevent other issues that can arise from a poor ventilated roof.
Gutter System
Taking a look at the gutter system is also another important aspect of a well-functioning home. Many homeowners often overlook this. Preventive maintenance and upkeep to the gutter system is very crucial and can be detrimental to your foundation if ignored.
Check the downspouts and splash-blocks. Are they fully attached and are they properly directing water away from the foundation? Also, look for any sagging in the gutters.
Water in the Basement
When looking at homes for sale, also be aware of signs of water in the basement. Is there a 'mildew smell' or staining on any of the walls or floors in the unfinished basement. This could be a number of things. Ranging from a water table under the house, improper grading, or simply a poor gutter system. If the ground is not sloping away from the home, the water has nowhere to go after a hard rain and in result, cause water to seep into the basement.
Windows and Doors
When working with a local real estate agent and viewing the inside of a home, check some of the doors and windows. Are they sticking or hard to open? Also check to see if there are any cracks above any windows, hallways, and doorways. This can be signs of foundation shifts.
Is there adequate caulking around all windows and doors. Also be on the lookout for water stains or signs of mold from water intrusion. This can also be present under window sills and on the wall below windows.
Problems with the Floors
When walking through the house do you notice that the floors are uneven or does it feel like the floorboards are loose. If there is tile in the kitchen or bathrooms, are there any cracks in any of the tiles?
Appliances and HVAC
Always take notice of the major appliances, water heater, and especially the HVAC system. These can be big-ticket items if they are towards the end of their lifespan and may need to be replaced soon.
Not sure the age of a unit? Typically you can check the serial number on a furnace to determine the year it was manufactured.
Walls and Ceilings
Always be aware of the ceilings through the house. Check for water stains or evidence of a recent repair. Touch up paint can sometimes be easily spotted leaving signs of a possible 'cover-up'.
As mentioned earlier, take notice of any cracks in the walls or ceilings. This can be an indication that there may be some minor foundation or settling issues.
Bathrooms
As a buyer viewing homes, always take note of the condition. Does it look like routine maintenance was performed all the home? Check for leaking faucets, caulking around the bathtub and check under the sinks to see if there are any signs of leaks. Try turning on a faucet or two to see if there is adequate water pressure.
Kitchen
While viewing the kitchen, consider digging deeper and looking at things like the sink, condition of cabinets, and appliances. Check to see if there are any signs of a leak under the sink or a dripping faucet.
What is the age and condition of the appliances? If you are able to get a glimpse of behind the refrigerator, look to see if it has recently been cleaned. It is important that you routinely pull the fridge out away from the wall and vacuum.
This helps with better airflow to the coils and can prolong the life of the compressor on a refrigerator.
Conclusion
When looking at new houses it can be hard to look past the nicer things about the home. Especially if it is the 'perfect house'. Make an effort to dig deeper when out viewing houses to find out if the home has been properly maintained.

Posted by Nathan Garrett on