[Estimated read time: 6 minutes]
Being a homeowner can be rewarding, but unfortunately, sometimes it can also be expensive. If you have recently bought a new house, you likely remember the importance of the age of certain items when looking at homes for sale. From the furnace to the water heater, the roof, and so on. Factoring in the cost to repair these items or even replace them is costly.
As a new homebuyer, it can be helpful to have a buyer checklist to help keep track of the important things to look out for when buying a home.
---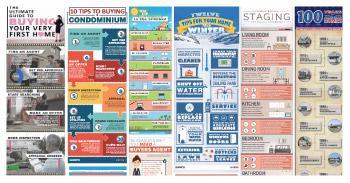 Do You Love Real Estate Infographics?
Check out some of our other top trending infographics and let us know what you think!
---
Life Expectancy of Household Items
Replacing items around the home can be frustrating. Not only can the unexpected expense put a strain on finances but it is also time-consuming when having to shop around and research the newest features and what make and model to buy. To top it off, you then have to figure out how to dispose of the old item. Which, sometimes can be an additional expense as well.
Some things around the house may last a lifetime, while other household items may only last a handful of years. That is why performing routine maintenance on appliances and other essential household items is imperative but also budgeting for repairs may be equally important.
How long do Windows last?
Just like any item around the house, the lifespan of windows can vary. The type of window, quality of material, and if the window is installed correctly all play a role. On average, windows can last from 15-20 years. Of course, there are windows found in historic homes that are much older than this but that doesn't mean they haven't seen better days. Switching out old windows around your home can quickly improve energy savings and even increase the value of your home.
The lifespan of other items found around your home:
Thermostat: 35 Years
Gas Fireplace: 15-25 Years
Windows: 15-20 Years
Television: 12 Years
LVP Flooring: 10-25 Years
Interior Paint: 10-15 Years
How long does Carpet last?
The lifespan of carpet in your home can vary depending on the quality and type of carpet installed, the amount of foot traffic, and general care for the carpet. Generally, carpets can last for 8-10 years, but this can easily be shorter depending on how rough you are on the carpet. It is important to regularly clean and care for the carpet to help prolong its lifespan.
The lifespan of other items found around your bedroom:
Interior Doors: 100 Years
Ceiling Fan: 12 Years
Light Switches: 10+ Years
Carpet: 8-10 Years
Mattress: 7-10 Years
Wifi Router/ Modem: 5+ Years
How long do Kitchen Appliances last?
Kitchen appliances can be pretty costly when it comes time to replace them. When shopping for a new item, it's easy to become distracted by the newest tech and features available.
On average, refrigerators have a life expectancy of about 9-13 years, but just like any appliance, this can vary depending on the make and model and usage. Sometimes routine maintenance can help prolong the lifespan.
Refrigerators are among the most expensive kitchen appliances. On the lower end, you may be able to find a new fridge for as little as only a few hundred dollars. On the higher end, they can cost anywhere from $3,000 to $5,000.
Ranges on average, have the longest lifespan compared to other kitchen appliances. The life expectancy of a stove/oven is anywhere between around 13-17 years. Gas ranges on average last longer than electric ranges but electric ranges are known to be more efficient.
The lifespan of other items found around the Kitchen:
Gas Range: 15-17 Years
Electric Range: 13-15 Years
Refrigerator: 9-13 Years
Garbage Disposal: 12 Years
Dishwasher: 9 Years
Microwave: 9 Years
How long do Tile Floors last?
Tile floors can easily last a lifetime if properly installed and maintained. Tile floors are typically found in bathrooms, laundry rooms, and basements because of their durability. There are many different types of tile flooring and if they are installed professionally and cleaned and sealed every couple of years they should easily last a lifetime. The average lifespan of tile floors is 75-100 years.
The lifespan of other items found around the bathroom:
Showerheads: 100 Years
Tile Floor: 75-100 Years
Whirlpool Tub: 20-50 Years
Faucets: 15-20 Years
Exhaust Fans: 5-10 Years
Caulking: 5-10 Years
How long do Washing Machines and Dryers last?
The lifespan of washers and dryers can vary depending on the make and model. On average, dryers last around 13 years. Whereas a washing machine has a much wider range. The average washing machine can last between 5-15 years. Usage and routine maintenance play a big role in how long a washer and dryer last. Even something as simple as cleaning the lint filter between each load can help. You may think a higher-cost washing machine will last longer because it may be built better and offers more features, but this isn't always the case.
The lifespan of other items found around the laundry room:
Dryer Vent: 20 Years
Electric Outlets: 15-25 Years
Laminate Flooring: 15-25 Years
Clothes Dryer: 13 Years
Washing Machine: 5-15 Years
LED Light bulbs: 30k-50k Hours
How long does a Furnace and Water Heater last?
Checking the age of the furnace is one of the most important things to check when looking at a home for sale. On average, a well-maintained gas furnace can last between 15 to 25 years. However, if the furnace is not properly maintained, it is not uncommon for the furnace to fail prematurely. It's important to change out the furnace filter regularly. Since there are many different types of filters, it often varies depending on which filter is being used. Also, having your system serviced and cleaned seasonally is imperative as well.
On average a water heater can last anywhere from 6-12 years. While some tankless water heaters can even last up to 20 years.
The lifespan of other items found around the basement:
Service Panel: 60 Years
Furnace: 15-25 Years
Water Heater: 6-12 Years
Dehumidifier: 8 Years
Sump Pump: 7 Years
Radon Fan: 5-8 Years
How long do Roof Shingles last?
Just like most items around the home, the lifespan of roof shingles can vary. Various factors such as manufacturer, the type of shingle, weather conditions, and installation quality all play a role. Three-tab asphalt shingles, which are the most commonly used, typically last between 15 to 25 years. Other roofing materials such as clay, copper, metal, and even slate all have a much longer lifespan. Regular inspections and repairs can also help extend the lifespan of roof shingles.
Front Door: 100 Years
Doorbells: 45 Years
Wood Fencing: 20 Years
Wood Shutters: 20 Years
Asphalt Shingles (3-tab): 20 Years
Concrete Patio: 15-25 Years
Asphalt Driveway: 15-20 Years
Deck Boards: 15 Years
Exterior Paint: 7-10 Years
Caulking: 5-10 Years
Stains: 3-8 Years
Mulch: 1-2 Years



Conclusion: Life Span on Essential Household Things

Most homeowners have experienced it, we buy a brand new appliance hoping it's going to last at least 10 years or more. Then surprisingly, a few years later we are out shopping for a replacement. Are we at fault for not taking proper care of it or do things just not last as long anymore?




Source: NACHI's Estimated Life Expectancy Chart.


Posted by Nathan Garrett on