[Estimated read time: 5 minutes]
When looking for condos for sale for the first time you will find that there is a slight difference between buying a single-family home and buying a condominium.
First. What is Condominium?
A condo is an individual unit that is inside a larger building, similar to an apartment building. An HOA governs and maintains the common areas that are funded by a monthly maintenance fee that is gathered from the residence living within the association.
---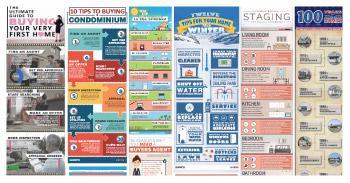 Do You Love Real Estate Infographics?
Feel free to check out some of our other top trending infographics and let us know what you think!
---
Steps to Buying Your First Condo
Let's take a quick look at what to expect during the process of buying a condominium, downtown loft or a townhome. Keep in mind that every transaction is different and can present different obstacles along the way.
1. Find an Agent
Look for an experienced agent to help you through the process of buying your first condo. Do your due diligence! Make sure that the real estate agent you hire has the experience that is needed when it comes to purchasing a condominium. Doing so will help make the process easier and more manageable considering they understand the process more.
Important Questions to Ask Your Real Estate Agent:
⚬ How long have you been in the Real Estate business?
⚬ What areas do you serve?
⚬ Do you have a list of past client testimonials?
⚬ How many Buyers are you currently working with?
⚬ Why should I use you to help with Buying a condo?
2. Get Financing
It is always important to talk with a lender before buying a home or a condo. Fully understand what your budget should be. Finding out what type of loan you will have can also make an impact on choosing a condo community.
There are numerous condos for sale in Louisville that are not VA or FHA approved and may require different financing in order to purchase the condo.
What kind of Loan should I get?
One of the most important things to consider when buying a condo in Louisville is - what type of loan should I get? Below we will take a quick look at the different kinds of loans that may be available to you.
Different types of Loans:
Fixed Rate Mortgage
A fixed-rate mortgage carries an interest rate that is locked in and stays the same throughout the life of the loan.
Adjustable Rate Mortgage
As for the adjustable rate mortgage (ARM's), the interest rate can change periodically and your rate can either increase or decrease from time-to-time.
Conventional Loans
A conventional loan usually requires a larger down payment and has its benefits. This type of loan is not guaranteed or insured by any government agency, such as the Federal Housing Administration (FHA)
FHA Loans
Federal Housing Administration mortgages have its benefits, such as lower down payments. These loans are available to all borrowers and not just limited to first-time homebuyers. One disadvantage for an FHA loan is the additional expense of mortgage insurance.
VA Loans
U.S. Department of Veterans Affairs offers mortgage loans to eligible military service members and their surviving spouses as long as they do not remarry.
3. Start Searching
If buying a condo is right for you, it's time to narrow down your search parameters to the perfect condo for sale. Do some research on what you can buy based upon the price range your budget can afford. Then simply refine your search to the area you are wishing to live and amenities and nearby attractions that you may want live in close proximity to.
Refining Your Condo Search...
4. Make an Offer
Now that you are ready to move forward on that perfect condo -- it's time to make an offer. It should be easy to find other comparable units if it is a larger community with an average or above average turn around. Meaning, there have been other condos within the community that have been bought and sold to help your agent determine a current market value.
Things to Consider When Making an Offer:
⚬ How much are the Property taxes?
⚬ What is the monthly Maintenance fee?
⚬ Is there a set increase (percentage wise) every year for the Maintenance fee?
⚬ Is there an up to date or revised copy of the Restrictions/ByLaws?
⚬ Are there any upcoming special assessments that the current condo residents may have to pay?
⚬ Is there an actual company managing the Condo Association or is it self-ran by Condo residents?
⚬ Can I see a copy of the Condos Association Budget/Balance sheet?
5. Condo Inspection
Just like when you are buying a home it is crucial to have a home inspection. Even though, majority of condominiums have exterior maintenance that is handled by the HOA. It is still important to have an inspection when purchasing a condo.
If you are not sure who to hire for the home inspection, ask your real estate agent for recommendations. Typically you will receive a list of different professionals that you can choose from.
6. Appraisal
Now that you are past the inspection and the repair request has been made. It's time for the lender to order the appraisal.
An appraiser will come out to the condo and verify that the value of the condo meets or exceeds the amount of the loan. This protects the lender so they are not loaning money on real estate that is less than the actual loan amount.
7. Condo Insurance
When buying your first condominium you will want to reach out at least three or four different insurance companies to get different quotes.
Obtaining insurance on a condominium is considerably less than the typical cost of homeowners insurance. Even though the association may have its own insurance policy. That usually only covers what is beyond the exterior walls of the condo unit. Having your own insurance policy in place helps protect the things on the inside of the unit.
8. Set Up Utilities
Getting your condo ready for the day you move in. Contact the local providers in the area to set up the utilities in your name. It is recommended to have them transferred over the day before the closing. Not the day after!
Typically, condo associations don't allow satellite dishes so you will want to check to make sure you are familiar with the bylaws and restrictions.
9. Final Walk-through
Getting closer to closing time. Now that you got the ok to close you will want to schedule a final walk through. At this time it is important to make sure all of the repairs have been completed and there are copies of all invoices.
You're soon to be, new condominium should also be broom cleaned and ready to be moved in at this point.
10. Closing
It is now time to close on your new condo. Dont forget to bring your license and be ready to sign pages and pages of documents.
Congratulations on the purchase of your new condo. Be sure to have the contact information for the HOA association in case you need to contact them for any reason. Also, find out arrangements that are in place to pay the monthly maintenance fee and any mailing addresses.
Closing Thoughts on Buying a Condominium
Hopefully this article provides the general information needed for anyone who is considering buying a condo. One downfall I have noticed here locally is that condos don't usually appreciate at the same rate as a home naturally would. What are your thoughts on living in condominium?

Posted by Nathan Garrett on