Typically when buying a home you are excited to close right away and may even have plans to be in the home by a certain date. However, there are times when closing dates are delayed or even pushed back. Buying a home consist of many different contractual deadlines, starting from the very beginning, all the way up to the very end.
Most first-time homebuyers have one question in common - how long does it take to buy a home? Once you find the perfect home, it can take anywhere from 30 to 45 days to close. However, that is if everyone is diligently working together.
Below we will touch on each step and look at how you can successfully close on your home in a reasonable time frame.
---
---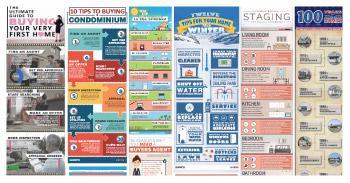 Do You Love Real Estate Infographics?
Check out some of our other top trending infographics and let us know what you think!
---
1. Get the pre-approval
The very first step, and probably the most important step when getting started is the pre-approval process. When you first get in touch with an experienced buyers agent they will usually ask:
"Have you been pre-approved?"
When going through the pre-approval process, your lender will typically request all income and asset documents in the beginning so they can get the loan quickly in process as soon as you have an accepted offer. If there is a hold up getting any documents, this can easily cause delays.
2. Offer accepted...now what?
After scheduling showings and looking at different homes you finally find the perfect house and write an offer. Once the offer is accepted, you may want to touch base with your lender and let them know you found a home and the offer was accepted. Check to see if they need any additional things from you in the meantime.
Keep in mind that typically statements and documents for your lender need to be less than 45 days old on certain loans (from the application date, time of accepted offer)
3. Time for inspections
Now it's time for the inspections. Home inspections usually happen within the first week or so of your offer being accepted and will take place before the ordering of the appraisal. This is mainly because there can be things in the inspection that can come up and you may decide the home might not be the right fit for you because of something that was brought to light. This is one reason why it is important that you, as a Buyer, is present during the home inspection. Be sure to ask questions, this will help you understand more once you receive the full report.
Important reminder: Do not make any big ticket purchases between now and the closing.
4. Waiting for the appraisal
Your lender will wait on the appraisal until after the inspection is clear unless there is a rush to get the loan closed and it was ordered early. Typically it can take anywhere from 1-2 weeks to get the appraisal back. The main objective for the appraisal is to verify that the home meets or even exceeds the value of the purchase price on the home. This ensures and protects the lender that there is adequate collateral on the house in case the homeowner defaults on the loan.
If the appraisal comes in low, the Buyer and Seller will need to come to an agreement on the difference. There are many different scenarios that can take place if this happens. Now that the inspection and appraisal are behind you the lender will order title work (typically about a week to get back.
5. Patiently wait for underwriter
Your getting closer! Now it's time to wait for underwriting. Sometimes the underwriter will request for additional documents from the Buyer. This can take place a few days from when it was submitted.
When your loan is in process the best thing you can do to make it go quickly is respond to the processor when they reach out to you requesting additional documents. By diligently responding you will help keep the closing on schedule.
Important Reminder: Do not switch jobs during the home buying process.
6. Get the clear to CLOSE!!!
Typically we get a "clear to close" once the appraisal is back and the underwriters sign off on it as we have taken care of all other conditions while waiting for the appraisal Once we get clear to close we can usually schedule closing 4-5 days from that date. This is mainly due to having to send out a preliminary closing disclosure to the clients and having them acknowledge it at least 3 full business days prior to closing.
Conclusion
When buying a home it is everybody's goal to close on the property fast and in the shortest amount of time. If you diligently provide the documents needed to your lender quickly when requested you will help the transaction stay on track without any delay.

Posted by Nathan Garrett on